Jonas Niedermann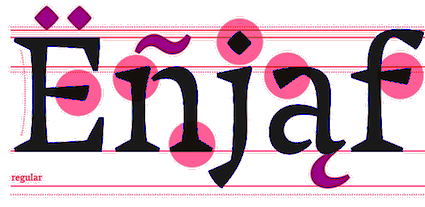 Swiss-born MATD University of Reading graduate, class of 2013, who lives in St. Gallen, Switzerland. He describes his graduation typeface Caligula as follows: The roman emperor Gaius Julius Caesar, also known as Caligula is described as a noble and moderate ruler during the first six months of his rule. After an illness, the sources focus upon his cruelty, extravagance, and sexual perversity, presenting him as an insane tyrant and maniac with a split personality. Caligula is a typeface family originally intended for both magazines in print as well as on screen. Styles for highly legible bodytext are accompanied by various and distinctive display styles for expressive headlines. The Latin has an angular character which makes it readable. It is harmonized with an Armenian style.
Cofounder of the Swiss type foundry ABC Litera together with Jost Hochuli and Roland Stieger.
In 2018, he designed the soccer shirt font Gruenweiss for FC Sankt Gallen 1879.
Creator with Roland Stieger of the sans typeface Alena, about which they write: It all started with the woodcut from Jost Hochuli, published in the year 1980. I found this woodcut in a bookshop around 1992 and was fascinated by it for many years. Until my interest in type design became so huge that I took it as a starting point to design an own typeface, a sans serif, called Alena, which builds on the shapes and proportions of this woodcut. Released in 2019 at Nouvelle Noire.
EXTERNAL LINKS
Jonas Niedermann
Behance page
MyFonts search
Monotype search
Fontspring search
Google search

INTERNAL LINKS
Type design in Switzerland ⦿ Type designers ⦿ Type designers ⦿ Armenian fonts ⦿ Soccer typefaces ⦿