Intel [Dan Rhatigan]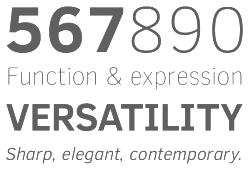 Intel, with the help of Monotype, produced the free sans typeface family Clear Sans in 2013. Another download link. Clear Sans was designed by Daniel Ratighan at Monotype under the direction of the User Experience team at Intel's Open Source Technology Center. Clear Sans is available in three weights (regular, medium, and bold) with corresponding italics, plus light and thin upright (without italics). Clear Sans has minimized, unambiguous characters and slightly narrow proportions.
The Typophile comments are all scathing: some say it is too close to DIN or Transport, too conservative. They also ask how the name can survive given that there are already typefaces named Clear Sans (2013: the infinitely more interesting sans typeface by Neil Summerour) and Clearview (2004: the famous American road signage typeface family by James Montalbano and Don Meeker)?
Additional download link: CTAN mirror. Open Font Library link.
In 2017, we find a slight modification of Clear Sans at Open Font Library, called Lorenzo Sans.
EXTERNAL LINKS
Intel
MyFonts search
Monotype search
Fontspring search
Google search

INTERNAL LINKS
Type designers ⦿ Type designers ⦿ Sites with only a few free fonts ⦿ DIN ⦿