Nimbus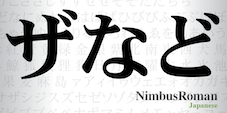 In their Global Type collection, URW++ has its Helvetica clone, Nimbus Sans (2005, 5 fonts, 2000 Euros) and Nimbus Roman (2005, 2 fonts, 2000 Euros). The former is based on Helvetica, the latter on Times New Roman. Meant as workhorses, these fonts cover Turkish, Baltic, Romanian, Cyrillic, Greek, Chinese Simplified, Chinese Traditional, Japanese, Korean, Thai, Vietnamese, Arabic, and Hebrew. Of course, Nimbus Sans can be had for free at Open Font Library.
The first versions of Nimbus Sans were digitized in the 1980s for the URW Signus sign-making system. The highest precision of all characters (1/100 mm accuracy) were required because the fonts were to be cut in any size in vinyl or other material used for sign-making. During this period three size ranges were created for text (T), display (D) and poster (P). In addition, URW produced the L-version that was compatible with Adobe's PostScript version of Helvetica. Nimbus was also the product name of a URW-proprietary renderer for high quality and fast rasterization of outline fonts. Also in the 1980s, a new improved and expanded version of the Nimbus Sans, Nimbus Sans Novus, was developed with URW's Ikarus system. Nimbus Sans Novus was modified for Nimbus Sans Round in 2015. Nimbus Sans Devanagari was redesigned in 2016. Nimbus Roman Japanese was refurbished in 2014 by URW.
Two releases in 2021: Nimbus Roman No. 9 L, Nimbus Sans L.
EXTERNAL LINKS
Nimbus
MyFonts search
Monotype search
Fontspring search
Google search

INTERNAL LINKS
German type scene ⦿ Thai fonts ⦿ Typefaces and type design for Arabic ⦿ Korean (Hangul) ⦿ Type design in South Korea ⦿ Type design in China ⦿ Type design in Japan ⦿ Greek/Coptic ⦿ Cyrillic type design ⦿ Hebrew font links ⦿ Vietnamese ⦿ Sites with only a few free fonts ⦿