Apostrof [Konstantin Golovchenko]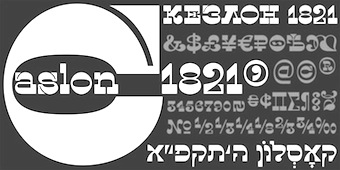 Ukrainian type foundry founded in 2012 by Viktor Kharyk and Konstantin Golovchenko in Odessa. In 2014, they published the Latin / Cyrillic typefaces Arsena (original from 2013 by Vikto Kharyk), Caslon 1821 (Italian typeface by Viktor Kharyk and Konstantin Golovchenko), 2 Quadro (octagonal) and Surf Serif Pro (sharp-edged and modular; original from 2013 by Viktor Kharyk).
Caslon 1821 revives a typeface of Caslon & Livermore, 1821. It covers Latin, Cyrillic and Hebrew.
Kyiv (2010, Viktor Kharyk) combines elements of antiqua, Cyrillic, and carving into widely usable Latin and Cyrillic text family. Kyiv was awarded the 2nd prize in the text font category in the first Ukrainian typeface competition Ruthenia in 2010.
In 2016, Henadij Zarechnjuk and Viktor Kharyk designed Dnipro for Apostrof. The Cyrillic version of this font follows Ukrainian decorative traditions, initiaited by Georgy Narbut and Mark Kirnarsky in the 1920s and continued until the 1980s. The Latin part has an uncial character.
In 2020, Konstantin Golovchenko and Kyrylo Tkachov released the sans typeface family Rock Star at AlfaBravo.