Narrow fonts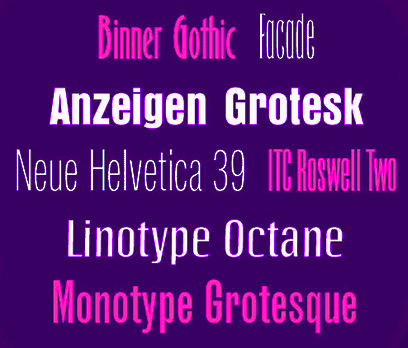 Linotype suggest seven condensed (narrow) fonts:
Monotype Grotesque Extra Condensed.
Helvetica from Max Miedinger, which is similar to Monotype Grotesque, was expanded by Tom Grace to Neue Helvetica with new, extra-narrow compressed styles.
Linotype Octane Regular (Norbert Reiners) has truncated tops, square dots and a large x-height.
Anzeigen Grotesk (1943, Haas Type Foundry; modern digital version by URW++, 2009) is a minimal contrast extreme x-height grotesque that is legible in very small sizes.
ITC Roswell Two (Jim Parkinson) is more geared to posters.
Binner Gothic (Monotype).
Facade (Steve Matteson). More a display font for large sizes, this font is added to the list for mysterious reasons.
EXTERNAL LINKS
Narrow fonts
MyFonts search
Monotype search
Fontspring search
Google search

INTERNAL LINKS
Choice of fonts ⦿ Telephone directory typefaces ⦿