Hugo Marucco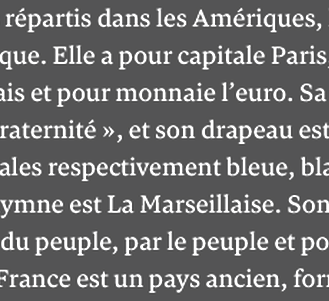 Graduate of the Type & Media program at KABK in Den Haag in 2014, where his graduation project included the development of Elisabeth, a transitional serif typeface. Hugo Marucco is a graphic designer and type designer from Annecy, France. He graduated with a BA as a graphic designer from The National School of Fine Arts of Lyon after studying visual communication at Bellecour School of Arts in Lyon. Before Type and Media he did several internships with Jean-Baptiste Lev&ecute;e and Atelier Carvalho Bernau.
Codesigner of a digital revival of Affolter Grotesque (1945, Charles H. Affolter), aka Ouvrière, together with Alex W. Dujet and Dylan Sauty (2011, League, Genève).
Other typefaces by him include Algebra Text (2016) and Internazionale Stencil (2016, a comissioned exclusive typeface for Internazionale Italy designed with Atelier Carvalho Bernau).
EXTERNAL LINKS
Hugo Marucco
Behance page
MyFonts search
Monotype search
Fontspring search
Google search

INTERNAL LINKS
Type designers ⦿ Type designers ⦿ Type design in France ⦿ Stencil fonts ⦿ Corporate typefaces ⦿