On The Spot Studio [Tiffany Willett]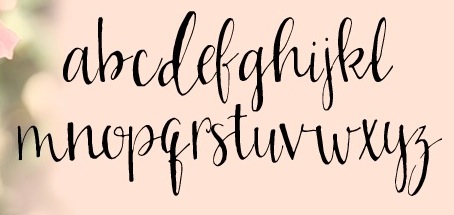 Kentucky-based designer of great script, poster and hand-drawn typefaces that are sold via Creative Market. Typefaces from 2014 include Violet Simple, Bren, Keke, Starburst, Stilt, Hadley Script, Gracyn, Heather Small Caps, Eloise, Porter, Milly, Sweetheart, Angelika, Elliot, Praline, Joplin, Rachel, Briar Rose, Emerson, Stanley, Sarah Jane, Alice, Waterbrush, Gypsy, London, Wonderland, Willow, Fink, Bluegrass, Amy Regular & Expanded, Canteen, Oliver, Oliver Light, Oliver Extra Light, Yard Sale, Carry On, Adventure, Loxley, Everly, Werd, Trudy, Farmers Market, Ashlyn, Laurel, Free Spirit, Swan, Layla, Luck - Serif & Sans Serif, Savanna, Indigo, Jaden, Ella.
In 2013, she made Kinley, Turner, Winter, Phoebe, Rae, Kris, Tris, Whit, Emma, Jenna, Blake, Jessy, Aubrey, Juliet, Piper, Harper, Caroline, Wren, Adam Serif Font, Nora, Arwen, Emelie, Elizabeth, Eden, Lena, Aria, Sawyer, CeCe, Patsy, Jasmine, Stella, Coop, BREE, Lu, Honeysuckle, Iris, Tea Party, Paper Doll, Dewdrops, Peach Cobbler, Lucy Mixed Caps, Berry, Becca, Annabelle, Quirked.
Typefaces from 2015: Juniper, Girl Friday, Reba, Pigment (brush script), Satellite, Della (calligraphic inky script), Janney, Mia, Heidi, Dreamcatcher (watercolor brush), Wallflower, Kharisma (watercolor brush script), Cracker Jack, Brownie Pie, Cricket, Young Blood, Lorelei, Sylvia Script, Kellie, Kale, Hayden.
Typefaces from 2016: Watermelon Smile, Bachelor Pad, Olive Beret, Dallon, Rodgers, Bursta Brush, Sydalee, Nadia Script, Buckley, Serya, Imogen (Treefrog style), Girlfriend, Bittersweet, Harley Q, Ophelia, Colleen, Delilah, Freddy, Rowan, Snowcone.
Typefaces from 2017: Kinlie, Oaker, Rippely, Calliah, Novala, Silver Fox, Lolabelle, Chocolate Milk, Girl Child, Brekkie, McGee, Mazamanian, Rawwr Dinosaur, Mickelmas, Renley, Surly Teen, Nickely, Zesty Orange, Chandler Print, Rigby, Jackapple, Meraki, Eggcup, Weatherd Sweater, Lucille Rose, Birkland, Flamingo Gold, August June, Willow Market, Endless Summer, Sycophantic, Croquet Bay, Jacobie, Florrie, Quickfly, Wild Onion, Korinn, Starlite Motel (neon style), Snicket (beatnik style), Strawberry Wine (brush script), Desmond, Camisado, Gator (children's book font), Schuyler Script, Northern Downpour, Pixles (script), Carafe, Eleanor Bosch (signature script), Peony Hearts, Unicorn Letters, Bantam, Broklyn (sic), Paxton Print, Zesty Orange, Becca, Annabelle, Sweet Caroline, Faraway, Celestia, Bohemia (creamy script), Limony, Esperance, Bigtime, Blink Script, Wicket, Begrime Light, Verve Distressed, Slapdash, Carafe, Freya.
Typefaces from 2018: Crinkle, Alley, Milk Tea, Sunshine Riptide, Stupid Cupid, Blackheart.
EXTERNAL LINKS
On The Spot Studio
Fontspring link [Buy fonts]
Fontbundles link [Buy fonts]
Dafont page
Creative Market page
MyFonts search
Monotype search
Fontspring search
Google search

INTERNAL LINKS
Commercial fonts (small outfits) ⦿ Type scene in Kentucky ⦿ Type designers ⦿ Type designers ⦿ Brush script typefaces ⦿ Treefrog typefaces ⦿ Watercolor brush script typefaces ⦿ Signature/logo fonts ⦿ Children's handwriting fonts ⦿ Neon tube or faux neon typefaces ⦿ Beatnik types ⦿ Regular as clockwork ⦿