My Creative Land [Elena Genova]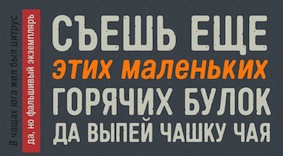 Elena Genova (My Creative Land, Edinburgh, Scotland) created these commercial typefaces in 2014: Ariadne (connected curly script), Veryberry (curly script, + Cyrillic), Handy Sans Condensed (+Distressed; for Latin and Cyrillic), Handy Casual Condensed.
In 2015, she designed the brush typefaces Celestial, Dessert Menu (Sans and Script), Botanica (Sans, Script, Ornaments) and Evenfal and the script typefaces Storyteller (a great connected script in Script and Casual sub-styles ideally suited for children's books), Allegretto Script (calligraphic), Catfish (monoline and connected), Rosalinda Script, Aristelle Script (+Aristelle Sans: identical to Ariadne) and La Veronique.
Typefaces from 2016: Sunshine Daisies (handwritten type system), Nefelibata (in Brush and Sans versions), La Parisienne, La Veronique Two, New Storyteller.
Typefaces from 2017: Above the Sky, Lovingly Friends (a collection of sixteen hand-crafted typefaces), Scandiebox, Brushability, Rockeby (32 fonts, which she describes as slightly more geometric than Block Berthold but much softer than the industrial Din Next; see also Rockeby SemiSerif and Rockeby Brush).
Typefaces from 2018: Adventures Unlimited (a connected monoline script and a super-condensed sans companion), Brushberry (dry brush script), Absolute Beauty (a monoline signature script and accompanying thin serif), Combinado (Sans, (a didone) Serif, Text, Script), Brooklyn Heritage (Sans and Script), Palomino (a crayon script), Beautiful Minds (a fashion mag typeface family; +Stencil).
Typefaces from 2019: Contempora Script and Contempora Sans Condensed, Freethinker, Hello Bloomie (a watercolor SVG font), Above the Beyond, Lumios Marker (a marker pen font), Lumios Typewriter (old typewriter), Beautifully Delicious (Sans+Script duo).
Typefaces from 2020: Dreaming Outloud (a fat finger font), Roca (a plump serif influenced by Windsor and Cooper Black), The Youngest, Praline MCL (a chocolate store Serif and sans pair), Balerno Serif (a lachrymal didione).
Typefaces from 2020: Carelia (a didone display typeface for Latin and Cyrillic).