Razziatype [Mirco Schiavone]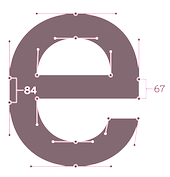 Mirco Schiavone (Switzerland) set up Razziatype. His fonts at Razziatype include RT Alias (pixelish) and Bowie. He co-designed the Cyrillic version of GT Walsheim (2009-2014) with Noël Leu (Grilli Type, Switzerland). In 2016, he created RT Dromo, which is based on double-gothic typefaces used for impact printing concert tickets during the 1980s.
RT Rondelle was released in 2019. It is inspired by traffic signage typefaces such as the London Airport Lettering signage typeface Matthew Carter drew for Colin Forbes' signage system for the No. 3 Passenger Building of London Airport. Razziatype explains: Carter's design is based on Standard Bold (the English name for Akzidenz Grotesk) but with a lower uppercase and shortened ascenders and descenders, the typical characteristics of a signage typeface. This way the London Airport Lettering was able to achieve larger letterforms on a spatially limited sign area. Note the steep curve with which the descender of the lowercase y changes its direction and the lowercase g, which has a drastically thinned out descender. Other inspiration came from Marek Sigmund's 1975 typeface Polskie Pismo Drogowe for the Polish road signage.
EXTERNAL LINKS
Razziatype
MyFonts search
Monotype search
Fontspring search
Google search

INTERNAL LINKS
Type designers ⦿ Type designers ⦿ Cyrillic type design ⦿ Type design in Switzerland ⦿ Commercial fonts (small outfits) ⦿ Pixel/bitmap fonts ⦿ Map/Travel dingbats ⦿