Universal Grotesk [Vladimir Balthasar]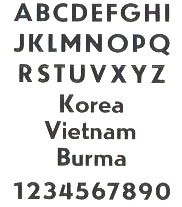 This typeface became famous for its use on traffic signs in Czechoslovakia. It was designed in 1951 by an unknown type designer at the Czech type foundry Grafotechna.
Free download of two fonts made in 2010 and 2012 respectively, also by an unknown designer. One of these fonts claims in its metadata that the original is due to Vladimir Balthasar in 1934. In 2016, Peter Bilak reports that Indra Kupferschmid told him that Universal Grotesk is basically Kristall Grotesk (1937, Wagner & Schmidt in Leipzig). As Wagner & Schmidt morphed into the East-German type foundry TypoArt some time after 1945, Bilak conjectures that Grafotechna got its matrices from Wagner & Schmidt.
Digital descendants:
The free typefaces Universal Grotesk and Universal Grotesk Tucny (2010 and 2012). Unknown designer. These fonts have irregular stroke widths and awful spacing.
Globe Grotesk Display (2014, Jan Charvat).
Uni Grotesk (2016, Peter Bilak, Nikola Djurek and Hrvoje Zivcic) is another outgrowth.
EXTERNAL LINKS
Universal Grotesk
MyFonts search
Monotype search
Fontspring search
Google search

INTERNAL LINKS
Map/Travel dingbats ⦿ Type design in Slovakia ⦿ Type design in Czechia ⦿ Type designers ⦿ Type designers ⦿ Typography ⦿