Blancoletters [Juan Luis Blanco]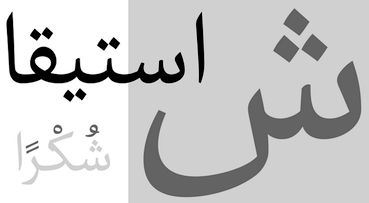 Juan Luis Blanco is a graphic designer, type designer and calligrapher based in Zumaia in the heart of the Basque country. Since 1993, he works as a freelancer graphic designer. In 2013, he obtained an MA in Typeface Design from the University of Reading. Currently he combines calligraphy classes and graphic design with typographic projects that focus on Basque lettering as well as multi script typefaces involving the Latin, Arabic and Tifinagh alphabets.
For his graduation work in the Masters of Type Design program of the University of Reading, Juan Luis Blanco (Spain) created the Latin, Greek, Cyrillic, Tifinagh, Arabic typeface family Amaikha (2014). Amaikha is characterized by Latin warmth and roundness.
A list of his typefaces:
Akaya Telivigala/Kanadaka. Blanco writes: Akaya is a single weight experimental display typeface in Kannada, Telugu and Latin scripts designed in collaboration with Vaishnavi Murthy (Bangalore, India). Akaya Telivigala and Akaya Kanadaka are made as two separate font files which share a common Latin. Github link. i Google Fonts link for Kanadaka. Google fonts link for Telivigala.
Amaikha (2014). His graduation typeface from the University of Reading.
Harri (2016, Type-o-Tones). A display font based on the peculiar letter forms used in signs and fascias all over the Basque Country. The letterforms can be traced back to romanesque inscriptions. Harri (stone, in Basque) is an all-caps typeface, and must be ranked as one of the greatest digital typefaces that capture the Basque soul. In 2020, it was republished at Blancoletters. Later in 2020, Harri Text was added. See also Harri text at Type Network.
Ingeo (2021). A 9-style geometric sans that oozes confidence and style, and has a senate seat thanks to its pharaonic lower case g.
Karela (2017). A humanist slab serif.
Qandus (2017), a multiscript typeface co-designed with Kristyan Sarkis and Laura Meseguer. It won a TDC Certificate of Typographic Excellence in 2017. Qandus covers Arabic, Latin and Tifinagh.
Tuqbal Pro (2015-2019, by Andreu Balius and Juan Luis Blanco). Tubqal Pro is a tri-script type family based on its previous Tubqal typeface commissioned by the Khatt Foundation as part of the Typographic Matchmaking in the Maghrib 3.0, the 3rd edition of the multi-script typographic research project of the Khatt Foundation. It includes Latin, Arabic (+Farsi) and Tifinagh (for the Tifinagh based languages: Tamazight (Central Atlas), Kabyle, Tamazight (Standard Moroccan), Tachawit, Tachelhit, Tagdal, Tamahaq, Tahaggart, Tamasheq, Tarifit, Tamajaq, Tawallammat, Tamajeq, Tayart, Tumzabt, Zenaga).
Speaker at ATypI 2016 in Warsaw on A Typographic Maghribi Trialogue. In this talk, he explains, together with Laura Meseguer and Krystian Sarkis, the Typographic Matchmaking in the Maghrib project of the Khatt Foundation, which tries to facilitate a cultural trialogue as well as shed a typographic spotlight on the largely ignored region of the Maghreb in terms of writing and design traditions. The specific goal of the collaboration is the research and development of tri-script font families (for Latin, Arabic and Tifinagh) that can communicate harmoniously.
EXTERNAL LINKS
Blancoletters


[Buy fonts]


[Designer info]
MyFonts search
Monotype search
Fontspring search
Google search

INTERNAL LINKS
Type designers ⦿ Type designers ⦿ The Spanish type scene ⦿ Greek/Coptic ⦿ Typefaces and type design for Arabic ⦿ Cyrillic type design ⦿ Fonts for Berber/Tifinagh/Tamazight ⦿ Basque fonts ⦿ Kannada fonts ⦿ Telugu fonts ⦿