Daniel Grumer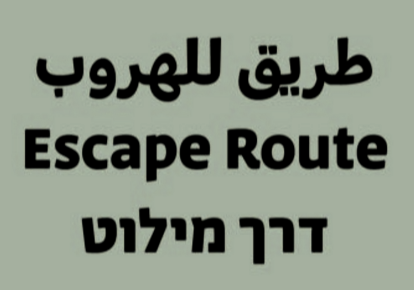 Born in 1985, Daniel Grumer studied at the Bezalel Academy of Arts and Design in Jerusalem. In 2015-2016, he studied type designat in the TypeMedia program at KABK in Den Haag.
At Haaretz, we read: As can be seen in the road signs for Arab communities, to mention just one example, in Israel the Arabic language has been marginalized at the expense of Hebrew. This is further emphasized by the contrast between the square and aggressive Hebrew typefaces of official Israel and the softer and more rounded letters of typical Arabic typefaces, a difference that in fact reflects the balance of powers between the country's Jewish and Arab communities. To achieve visual coordination, equal visibility and presence and peaceful coexistence between these two languages that share a same space while taking a small step for peace, Grumer created Avraham-Ibrahim as his final project as a visual communications major at Jerusalem's Bezalel Academy of Arts and Design in 2014. Grumer, who learned Arabic in the army, got help (over the Internet) from a Jordanian calligraphy designer of Syrian descent. He found another source of inspiration for his typeface in the Hebrew signs written by Arab merchants that "simply make the Hebrew language dance and liberate it from the geometric pressure," he says.
His graduation typeface at KABK in 2016 is the perfectly balanced tri-lingual (Latin / Arabic / Hebrew) typeface Abraham.
In 2016, he fine-tuned Peter Bilak's November Hebrew: November is a rational, utilitarian typeface inspired by street signage. Unlike most signage types it also handles long texts with ease. It covers Hebrew script, but also Arabic, Cyrillic, Greek and Latin, and is accompanied by a set of wayfinding symbols. Daniel designed the Condensed and Compressed styles.
EXTERNAL LINKS
Daniel Grumer
MyFonts search
Monotype search
Fontspring search
Google search

INTERNAL LINKS
Type designers ⦿ Type designers ⦿ Hebrew font links ⦿ Type design in Israel ⦿ Typefaces and type design for Arabic ⦿ Greek/Coptic ⦿ Cyrillic type design ⦿