Pedro Azedo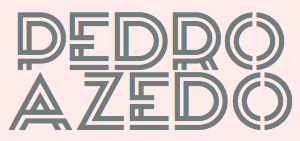 Graphic designer in Alcanena and/or Terres Novas, Portugal, who created the free bilined caps typeface Kanji (2015), which was inspired by kanji. He also made the free avant garde sans low-center-of-gravity display typeface family Azedo (2015).
In 2016, he designed the free art deco typeface Tagus, the bilined and outlined Irene, the bilined titling typeface Kanji (which contains no kanji), and the free decorative Pole Numerals.
In 2017, he designed the informal typeface Phan, the Escher-inspired typeface Aclo, the children's book typeface Phan, and the blackboard bold font Quira.
In 2018, he published the Escher font Loophole and the soft poster typeface Gelato.