Unio Creative Solutions [Nicola Manzari]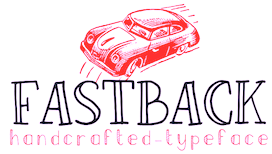 This Italian web marketing company, co-founded by Bruno Pierini and Nicola Manzari, published the hand-drawn typefaces Carosello (a 1950s marker font), Feels Good, Fastback (vintage sketched and handcrafted family), Ottanta, Tangerine, String Bean, Raffaello and FatSlim in 2015. They also made Venice Serif (2015) and the rounded sans typeface Novanta (2015).
Typefaces from 2016: Essenziale (a tall minimalist sans), Gutenberg (an all caps grungy chic typeface), Yummy (a tall handcrafted sans family), Sailors Grave (a spurred and unspurred tattoo font pair done as a tribute to Norman Keith Collins also known as Sailor Jerry, who influenced the art of modern tattooing), Metropolis (free demo; inspired by the original 1927 Fritz Lang movie).
Typefaces from 2017: Vision (a compass-and-ruler hipster geometric sans).
Typefaces from 2018: Belvedere (a monoline script font duo).
Typefaces from 2019: Lets Jazz (referring to Saul Bass graphics), Distopia (sans), Venice Serif (a legible lightweight open-counter text typeface family).
Typefaces from 2020: Kinetica (a wide sans in four styles), Moshi Moshi (with rough outlines, this all caps typeface is inspired by Japanese street posters).
Typefaces from 2021: Macaw (an 8-style text family based on early 1900s Italian newspaper type; with Bruno Pierini), Opificium Sans (a tall and simple condensed serif in six styles).