Vivien Gorse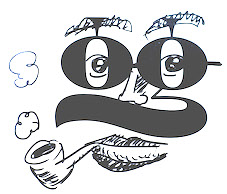 Vivien Gorse (Toulouse, France) is a freelance designer who created these typefaces:
Inland Series (2014-2015). A revival of Inland Series (1895, Nicholas Werner, Inland Type Foundry). This typeface adds many Victorian or steampunk elements to a didone skeleton. It is also called Edwards, and Bizarre Bold (the BBS name of Edwards).
Rotury (2015). Also based on Inland Series.
Grosse Black (2014). A black slab serif typeface, ideal for poster work. Followed by the fat face Grosse in 2016.
Sèche Narrow (2015).
Beotian (2015). A German expressionist or heavy blackletter typeface.
Melville Bold (2015). A condensed grotesque titling face inspired by the work of French cinematographer Jean-Pierre Melville.
Moche (2014).
Lizard (2014).
Kanyon (2012). Experimental type.
EXTERNAL LINKS
Vivien Gorse
Behance page
MyFonts search
Monotype search
Fontspring search
Google search

INTERNAL LINKS
Type designers ⦿ Type designers ⦿ Type design in France ⦿ Steampunk typefaces ⦿ Victorian typefaces ⦿ Typefaces related to German expressionism ⦿ Blackletter fonts ⦿ Experimental type ⦿