Creativeqube Design [Lucy Chugg]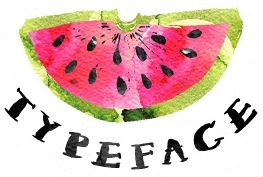 Hamilton, Victoria, Australia-based designer of Torquay Hotel (2015, a great dry brush typeface), Tropical Nights Script (2015), Blitzen (2015, a scribbly outlined typeface), White Snowfall Script (2015), Third Storey (2015, +Brush, +Regular, +Marker), Twisted Willow (2015, a connected exaggerated script), Saltywaters (2015, an attractive brush script), Operation 22 (2015), Sideline Bold (2015), Sideline Hollow (2015), Juicy Brush (2015), Blushingly (2015, a brushy wedding script font), Thystle Leaf (2015), La Bambiny (2015: painted Treefrog style script), Sweet Dreamer Script (2015, children's hand), the fat brush typeface Coalface (2015) and the curly fat brush scripts Wonderlicious (2015) and Rumpledrop (2015).
Typefaces from 2016: Boltis, Tantrums, Favoured (rough brush), Goatfish, Odd Socks, Passion Fruits, Boom&Farrow, Blissfully, Snowblown (a chunky marker font), Loganberry, Roll Off, Shakeoff (dry brush), Grainger, Irish Brogue, Saltie Sea, Gorgeously You, Yellow Gold, Seriously Rad (brush font), Sorrella Script, Woodend retro, Roamfest Brush Script, Doctors Scrawl script, Needle & Thread, Rabbit Fur (brush type), Moonlit harvest, Quickly Script, Multiculture, Lusciously, Listless, Lemony Zest, Liberty & Love, Lemonade Fizzo, Illabarook Script, Humongous, Hot Chips, Going Slow, Aberfoyle Park Script, Strike One, Lovers Avenue, Glen Thompson, Sing Aloud, Berry Shortcake, Yellow Taxi, Shopwreck (dry marker font), Faithful True, Flattering, Zombie Zone, Feathertop, Jellybeans, Show+Tell, Swizzlesticks, Label Marker, Hello Journal, School Blackboard, Life+Laughter, Holiday Chaos, Silverwaves, Bjorn Rider (marker font), Affectionate Brush (crayon font).
Typefaces from 2017: Soundbound, Trescott, Tyndust Script, Wallower Script, Berry Merry, Beautiful Lights Script, Song of the River Script, Oh Mistletoe Script, Holiday Joy, Jingle Joy, Holiday Coffee Script, Cheerful Elf Script, Journey's Inn (brush), Ice Castle, Frosted Cupcake, Oh Surrender Script, Moonlight Sailing Script, Justify Brush Script (dry brush), Just Maria Script, Falling Pumpkins Script, Bright Soul Script, Blossomie Script, Joy Flight Script, Loving Saskia (watercolor brush), Blue Liquid, Lemons Soda Script, Southerner (dry brush script), Theodoria Script (tall swashy calligraphic typeface), Highline, Southfall Script (formal calligraphy), Serial Catch, Travelling Abroad, Warrenson Script, Saturday Rock, Indulgence Script, Cottage Gardens Script, Spoonfull Script, Pattersonville Script (signature font). Behance link.
EXTERNAL LINKS
Creativeqube Design
Behance page
Creative Market page
MyFonts search
Monotype search
Fontspring search
Google search

INTERNAL LINKS
Commercial fonts (small outfits) ⦿ Brush script typefaces ⦿ Children's handwriting fonts ⦿ Treefrog typefaces ⦿ Type designers ⦿ Type designers ⦿ Type in Australia ⦿ Typefaces that emulate crayons ⦿ Dry brush script typefaces ⦿ Signature/logo fonts ⦿ Calligraphic typefaces ⦿ Watercolor brush script typefaces ⦿ Curly typefaces ⦿