Mellow Design Lab [Kelly Reed]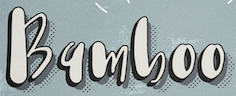 Mellow Design Lab is Kelly Reed (USA). Her typefaces from 2015: the watercolor brush typefaces Ocean Adventure and Honey, the rough brush typeface Hurst (+dingbats), the hand-crafted fonts Morrison (+Outline) and Hotel, and the connected script typeface La Tomarina.
In 2016, Kelly designed Alivia (a calligraphic script), Henrylistica, Moonlight (dry brush typeface), Hitchhiker (brush script), Fur Banhart Script, Hello Neighbor Script, Flowers in December, Sorilena (script), Spelling Night, Spirit of Montana, Artistic Friend, Josefina, Belfortello Script, Ewelvian Script, Just Believe, Ambassador, Off The Wall (rough brush), Carlshamn (upright brush script), Magnolia, Secret of Julia, Montreal Script, Sail Whale, Bostion, Catfish Blues, Ink Fortune, Jeniffer Script, Bamboo Tree, Good Times, Yellow Lime (calligraphic), Air Wooster Script, Amber Light (watercolor brush), Marseline (calligraphic script), Smitten (script), Brilliant (calligraphic script), Bristol (connected brush script), Starina Script (connected script), Rochesten (brush font) and Aliresi.
Typefaces from 2017: Heartful Monday, Gamla Stan (a fantastic signature font), Romantic Script, Henrylistica Script, Yorkshire, Patersson, Finn&Lohna (calligraphic), Torshavn Script (brush script), Little Moose Script, Smoothie, Justine, Family Bloom (fat script), Malina, Hey Friend, Melody, Power, Ferilistica Script, Kelmi Script, Smiths, Galimo, Pineapple Script, Miller (dry brush), Salt (dry brush), Manstarw (brush script), Moperly Script (inky pen script), Geffry Script, Sader Time (dry brush script), Melodysta Script, Zambia Script, Northway Script, Galapagos Script, Montana Script, Millioner, Aliviero Script, Countryside, Montyray, Macchiato, Mustache, Hooper, Carmensita, Rimbaud Script, Pendelton Script (brush style), Night In White Satin (textured script), Pineapple (dry brush font), Litle Seahorse.
Typefaces from 2018: Leaf & Twig, Antwerpen, Jolimer, Bonnie & Lary (brush script).
Typefaces from 2019: Alivia Script, Bambino, Blast SVG Font, Bonnie & Lary Script, Certified, Cherries Tree Script, Hake Brush SVG Script, Harmony Script, Hey Oulu, Holiday Script, Home Paris, Hosiery, House of Mouse Script, Juliet Kind Font DUO, Lavender Script, Lemon Grass Script, Lovely Day Script, Mint Salt Script, Mon Juliet, Movelistica, New York SVG, Ostinel SVG Font, Pistachio Script, Shine Yolk, Solution Script, Some Think Script, Talisman Script, Time Land Font, Tomas and Lilie Script, Yard Miles Script (for signatures).
Interestingly, on Behance, Kelly operates as River Port out of Murmansk, Russia. Newest Creative Market link.
EXTERNAL LINKS
Mellow Design Lab
Behance page
Creative Market page
MyFonts search
Monotype search
Fontspring search
Google search

INTERNAL LINKS
Type designers ⦿ Type designers ⦿ Brush script typefaces ⦿ Cyrillic type design ⦿ Calligraphic typefaces ⦿ Commercial fonts (small outfits) ⦿ Handwriting fonts ⦿ Textured typefaces ⦿ Dry brush script typefaces ⦿ Watercolor brush script typefaces ⦿ Signature/logo fonts ⦿ Treefrog typefaces ⦿