Zilap (or: Mr. Zilap, or Zilap Estudio) [Juan Guillermo Navarro Barrios]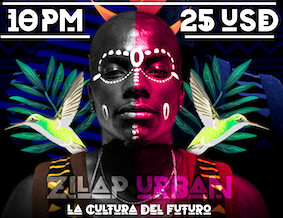 Juan Guillermo Navarro Barrios runs the design and illustration studio Zilap in Medellin, Colombia. In 2014, he created the hipster typeface Zilap Normal. In 2015, with the cooperation of LJ Design, he created the free futuristic typeface TRG Zilap and the alchemic occult typeface Zilap Geometrik. Zilap Tribu (2016) is an alchemic African tribal font, Zilap Oriental (2016) is an alchemic oriental simulation font, Zilap Corporative (2016) is designed for corporate indentities, Zilap Natural (2016) is a rounded sans typeface, Zilap Alien (2016) is an alien dingbat font, and Zilap Espacial (2016) is an alchemic space era font. Gabi Barnat designed the tribal font Zilap Barnat in 2016. Zilap Marine (2016) is a wavy display typeface. Zilap Urban (2016) is a funky hipster typeface.
Typefaces from 2017: Zilap Sound (hipster style), Zilap Precolombino, Zilap Mystery, Zilap Combat, Zilap Africa, Zilap Monograma, Zilap Black Storm, Zilap Nitro (a racetrack font), Zilap Evolution, Zilap Deep Sleep.
Typefaces from 2018: Zilap Sensitive, Zilap Russia (constructivist, Cyrillic simulation), Zilap Exclusive (pearled), Zilap Orion (futuristic).
It is unclear if Juan Navarro is the same as Luis Jaramillo, because his fonts are published under Luis Jaramillo's label, LJ Design.
Typefaces from 2019: Zilap Destiny.
Typefaces from 2020: Zilap Romance. Fontspace link. Facebook link. Fontspace link. LJ Design Studios link.