Daniel Wenzel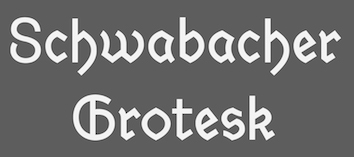 During his studies at HTWG Konstanz, Germany, Daniel Wenzel created the sans and serif typeface family Dekan (2015) and the sans typeface Hass Grotesk (2016). Still in 2016, he revived Alte Schwabacher as Schwabacher Grotesk.
In 2017 he designed the sans typeface family Veelo. In 2017, Sergi Delgado and Daniel Wenzel co-designed the textured op-art typeface Aigua.
Daniel wrote Automatisierte Schriftgestaltung / Automated Type Design to showcase how type design can be automated. That work was done under the mentoship of professors Brian Switzer and Jo Wickert.