Miguel Angel Hernández Montoya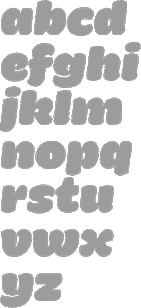 Miguel Hernandez is a graphic designer, type designer, illustrator and teacher in Santiago de Chile. Born in 1977 in Concepcion Chile, he studied Graphic Design at Universidad del BioBio State University in Chillan, Chile. He currently teaches Typography at Universidad Diego Portalesand and Universidad de las Americas in Santiago de Chile. Miguel contributed greatly to the early success of the Chilean type foundry Latinotype which he cofounded in 2007 with Felipe Soto in Concepción, Chile. In 2011, he cofounded Los Andes Type. Some time in or just before 2015, he broke his relationship with Latinotype. In 2015, he set up ABC Alphabets by Chileans together with Tania Chacana. His typefaces:
Arquitecta (2014, Latinotype), Arquitecta Standard (Latinotype), Arquitecta Office (Latinotype).
The Google Web Font Ceviche One (2011). This is an angular yet curvy extra black expressionist sans serif type.
Chela One (2012). A bold condensed brush script, free at Google Web Fonts.
Fiancé (2011, Sudtipos). A fat signage typeface.
Lolita (2012, Latinotype). A playful rounded sans family.
Mija (2011, Latinotype). Inspired by vernacular signs.
Patagon (2011, Latinotype): a rounded wood-inspired poster typeface done with Daniel Hernandez and Luciano Vergara.
Sail (2012). A didone script.
Sofia (2012). An upright script, free at Fontsquirrel.
Texta (2014, Latinotype), Texta Narrow (Latinotype). a geometric sans for everyone.
Tikal Sans (2012, Latinotype).
Uomo (2014, with Tania Chacana) is a contemporary typographic system that explores the geometric sans style and Italian art deco in combinations of four widths and three weights.
Before Latinotype, Miguel Hernandez created many pixel typefaces. The typefaces made in that period before 2007 include:
View Miguel Hernandez's typefaces. Another look at Miguel Hernandez's typefaces.
EXTERNAL LINKS
Miguel Angel Hernández Montoya


[Designer info]
MyFonts search
Monotype search
Fontspring search
Google search

INTERNAL LINKS
Type designers ⦿ Type designers ⦿ The Chilean type scene ⦿ Wood Type ⦿ Art deco typefaces ⦿ Brush script typefaces ⦿ Signage typefaces ⦿ Typefaces related to German expressionism ⦿ Pixel/bitmap fonts ⦿ Modern style [Bodoni, Didot, Walbaum, Thorowgood, Computer Modern, etc.] ⦿ Blackletter fonts ⦿ Typewriter fonts ⦿ Aztec typefaces ⦿ Mayan typefaces ⦿