Frere Jones Type [Tobias Frere-Jones]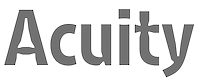 After his break-up with Jonathan Hoefler, Tobias Frere-Jones set up shop as Frere Jones Type in Brooklyn, NY, in 2015. His first typeface in his new skin is the sans typeface Mallory (2015: contributions by Graham Bradley, Erin McLaughlin, Aoife Mooney and Tim Ripper). Mallory is an all-purpose font but is motivated by small mobile devices. It is legible on screen and in print. It includes currencies for countries that have released new symbols like the Indian rupee and Turkish lira.
In 2016, he published the sans family for screen, mobile app and desktop, Retina, in seven weights, three widths and two sizes. Retina's MicroPlus styles are engineered to occupy the same space in any weight. To remain legible, deep notches and exaggerated carefully studied ink traps are applied. The Museum of Modern Art has recognized Retina as a milestone in type design, and acquired it for its Architecture and Design Collection. Retina was designed by Tobias Frere-Jones, with contributions by Graham Bradley, Nina Stössinger, Tim Ripper, Dave Foster, Octavio Pardo, Ksenya Samarskaya and Colin Ford.
In 2018, Tobias Frere-Jones and Nina Stössinger co-designed the modernized roman inscriptional typeface Empirica Headline (with contributions by Fred Shallcrass). It has original lower case letters and italics.
EXTERNAL LINKS
Frere Jones Type
MyFonts search
Monotype search
Fontspring search
Google search

INTERNAL LINKS
Type designers ⦿ Type designers ⦿ Commercial fonts (small outfits) ⦿ Readability & Legibility ⦿ Type scene in New York ⦿ Typefaces inspired by the Trajan column in Rome ⦿