Stolat Studio [Ania Wielunska]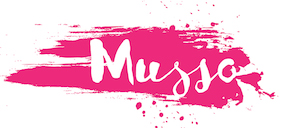 Stolat Studio is a Warsaw-based creative agency founded by Michal Janica, Igor Kubik and Ania WielunDska. Irt specializes in branding, communication design, strategy and typography. Type designer Anna Wielunska (b. 1992) is based in Warsaw, and studied at the Warsaw Academy of Fine Arts. She created Musso (2016), a remarkable brushy vernacular script typeface that is loaded with alternates to emulate real handwriting. Since about 2010, there has been an explosion of brushy typefaces, but even in this crowded field, Musso stands out. Later in 2016, Ania Wielunska and Mateusz Machalski co-designed the weathered typeface family Gangrena. Her last typeface from 2016 was the connected school script Koszyki, also co-designed with Mateusz Machalski.
In 2016, as part of Warsaw Types, she designed the (free) elegant artsy typeface Lombard, which is loaded with ball terminals and slightly inclined. She writes: Lombard is a combination of an expressive script inspired by traditional Warsaw neon lettering and block letters typical for local craftsmen signage. The design was influenced by the Jubiler neon sign. This combination resulted in a font that is decorative and yet modular.
In 2017, she designed the 18-style typeface Gelato Sans (Borutta). That typeface was republished in 2020 at Stolat Studio.
In 2017, she participated in the Bona project, which set out to revive and extend Andrzej Heidrich's old typeface Bona. Mateusz Machalski contacted him for advice on the revival project. The resulting typeface families were published by and are available from Capitalics. The centerpiece is the warm and wonderful text typeface Bona Nova. It is supplemented by the extreme contrast typeface family Bona Title and the inline typeface family Bona Sforza. Participants in the project also include Leszek Bielski, Ania Wielunska and Michal Jarocinski.
In 2018, Ania Wielunska designed Lazarus (Regular, Italic, Upright Italic, Fraktur). Dedicated web site. A revival of the New Polish Karakter from 1594 by Jan Januszowski, Jan Kochanowski and Lukasz Gornicki.
Typefaces from 2020: Gangrena (a weathered black typeface originally done in 2016). In 2020, the team at Capitalics in Warsaw, namely Mateusz Machalski, Borys Kosmynka and Ania Wielunska, revived Adam Poltawski's Antykwa Poltawskiego (1928-1931) as Poltawski Nowy (2020).