Seemly Fonts (or: Comely Designs, or: Seemly Designs) [Mohammed Shohail Bhuian]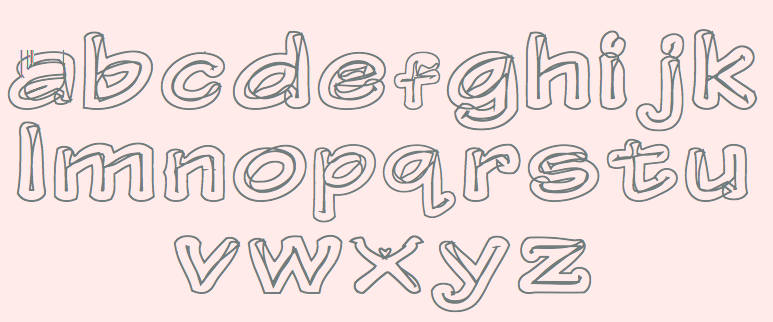 Names associated with Seemly Designs and Comely Designs and Seemly Fonts include Jamel E. Robin and Mohammed Shohail Bhuian. American creator (b. 1984 or 1985) of Merry Christmas Go (2014, Christmas dingbats), Delphinium (2014, modular typeface), Calla (2014, ornamental letters; called Brush Moon inside the font), Christmas Go (2014, Christmas icons), Artindo (2014, rounded hand-printed sans) and Gerbera (2014, an experimental outline typeface).
Typefaces from 2016: Crocus, Formiane (hand-crafted), Xiovus (a rough brush face), Brown Foxy (a brush typeface), Burly Stain, Brown Crow, Funtos, Borsta (thick brush), Handwritten Artem, Burly, Goajubia, the hand-crafted typefaces handwritten Artem and Vimofee, the grungy Grungoe, the outlined typeface Yarrow, the brush face Renbion, the sans typeface Carefaq.
Typefaces from 2017: Shurjota, Admixes, Darkling, Daichi, Deadway (gothic), Dorathy, Funbox, Getrox, Kadence, Quinni, Radburn, Red Runner, Rishima Tint, Rishima (monoline hand-printed), Brave Rocker, Mantre, Marlys Wilson, Bixens, Anxious, Plucky, Terbium, Fraxinus, Leilani (sans), Gresan (signage), Isrety, Sinewy (rounded sans), Foglia, Josen, Meriana (hand-printed), Landis (dry brush), Radburn, Deadway, Bince Triex (rounded sans), Celibe (sans), Rodless, Axile, Bexirow, Jacsony (dry brush), Rantox, Dream Booker, Saburio, Nioxra, Waking Dreamer, Faegan (sans), Quenby, Jugsar (fat brush), Priopa, Tenure (grungy), Hardy Street, Noisette, Disjunct (grungy), Nigella, Xioxca (grungy), Goajubia Next, Rocky Here, Grand Dreamer (sans), Speedwell (text typeface), Scabiosa, Celosia, Gaillardia, Matthiola, Clarkia (dry brush), Jaxcos (prismatic), Jacsony (drybrush), Nelumbo.
Some fonts are free at Dafont. Creative Market link for Jamel E. Robin. Fontspace link. Sellfy link. Newer Creative Market link. Newest Creative Market link. Dafont link.
EXTERNAL LINKS
Seemly Fonts (or: Comely Designs, or: Seemly Designs)
Fontspring link [Buy fonts]
Fontbundles link [Buy fonts]
Dafont page
Fontspace page
Creative Market page
MyFonts search
Monotype search
Fontspring search
Google search

INTERNAL LINKS
Type designers ⦿ Type designers ⦿ Experimental type ⦿ Ornamental caps typefaces ⦿ Christmas / Season's Fonts ⦿ Handwriting fonts ⦿ Sites with only a few free fonts ⦿ Icon fonts ⦿ Commercial fonts (small outfits) ⦿ Brush script typefaces ⦿ Dry brush script typefaces ⦿ Prismatic typefaces ⦿