Seemly Fonts (or: Fancy Fonts, Instagram Fonts, Comely Designs, or: Seemly Designs) [Mohammed Shohail Bhuian]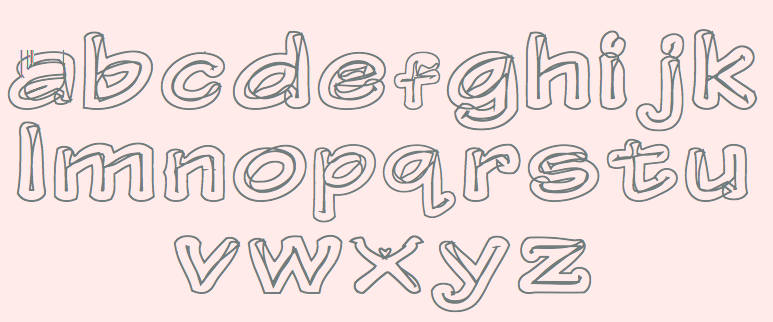 Names associated with Seemly Designs and Comely Designs and Fancy Fonts and Seemly Fonts include Jamel E. Robin and Mohammed Shohail Bhuian. Bangladesh-based creator (b. 1984 or 1985) of Merry Christmas Go (2014, Christmas dingbats), Delphinium (2014, modular typeface), Calla (2014, ornamental letters; called Brush Moon inside the font), Christmas Go (2014, Christmas icons), Artindo (2014, rounded hand-printed sans) and Gerbera (2014, an experimental outline typeface).
Typefaces from 2016: Crocus, Formiane (handcrafted), Xiovus (a rough brush face), Brown Foxy (a brush typeface), Burly Stain, Brown Crow, Funtos, Borsta (thick brush), Handwritten Artem, Burly, Goajubia, the handcrafted typefaces handwritten Artem and Vimofee, the grungy Grungoe, the outlined typeface Yarrow, the brush face Renbion, the sans typeface Carefaq.
Typefaces from 2017: Shurjota, Admixes, Darkling, Daichi, Deadway (gothic), Dorathy, Funbox, Getrox, Kadence, Quinni, Radburn, Red Runner, Rishima Tint, Rishima (monoline hand-printed), Brave Rocker, Mantre, Marlys Wilson, Bixens, Anxious, Plucky, Terbium, Fraxinus, Leilani (sans), Gresan (signage), Isrety, Sinewy (rounded sans), Foglia, Josen, Meriana (hand-printed), Landis (dry brush), Radburn, Deadway, Bince Triex (rounded sans), Celibe (sans), Rodless, Axile, Bexirow, Jacsony (dry brush), Rantox, Dream Booker, Saburio, Nioxra, Waking Dreamer, Faegan (sans), Quenby, Jugsar (fat brush), Priopa, Tenure (grungy), Hardy Street, Noisette, Disjunct (grungy), Nigella, Xioxca (grungy), Goajubia Next, Rocky Here, Grand Dreamer (sans), Speedwell (text typeface), Scabiosa, Celosia, Gaillardia, Matthiola, Clarkia (dry brush), Jaxcos (prismatic), Jacsony (drybrush), Nelumbo.
Typefaces from 2019: Sebqor, Sombir, Cherish Today, Rosbed, Bookish, Bonrin, Dokrak, Moorish Nonary, Notice Things, Single Step, Musicality, Axile, Funbox, Spring Season, Journey Planner, Rockwork, Notice Things, Finder, Caroos, Our Goal, Single Step, Rekobip, Mobstex, Bogwood.
Typefaces from 2020: Leman, Valentine Dream, Thrive Xmas, Christmas Respite, Good Mood, Our Santa, Christmas Love, Supposition, Stay Happy, Christmas Tree, Nest, Mother Wonder, Autumn Arbor, Keep Smiling, Be Honest, Spread Beauty, Spread Joy, Happy Dreamer, Delighted Panda, Christmas Eve, Derivation, Be Kind, Dream Arranger, Enjoy Summer, Fallen Dreamer, Father, Follow Through, Hello Brilliant, Hello Christmas, Hello Halloween, Mermaid, My Father, Natural, Obsessed Halloween, Shadowy, Spooky Haunt, Spooky Regime, Summer Garden, Syncopator, Target (textured caps), Travel, Vacation Planner, Veritas Christmas, Welcome Everyday, Sweet Summer, Halloween Occurrence, Bomka, Floweret, Keqima, Mando, Qiko, Runner, Demure Dogma, Epoch (Bold/Light/Regular), Floret, Goodenia, Grand, Hello Brilliant, Jacsony, Plight (Bold/Light/Regular), Queenship, Scabiosa, Sombir, Mamma, Mammy, Momcare, Mother, Mother Special, Mother Wonder, Valentine Things, Autumn Happiness and Valentine Monster.
Typefaces from 2021: Strong Passion (a scrapbook font), Striking Rainbow, Food Zone (a round vernacular caps font), Remind Him (hand-crafted), Monteya (a bold display serif), Our Happy Holiday, Sweet Daydream (hand-printed), Eerie House (a Halloween brush font), Scary Hours, Big Dreamer, Christmas Preference (hand-printed), Wake Up Now (a scrapbook font), Connect Christmas, Merry With Dream, Dark Misery, Spooky Sphere, Creepy Night (a brushed horror font), Happy Moment (all caps, handcrafted), Summer Motion, Inquisitive (handdrawn caps), Aim High, Hold On (an all caps brush font), Aim High, Positive Attitude, Take Chances, Hardy Mind, Pretty Magnolia, Summer Ink, Tidy Mom (a chalk font), Think Big, Precious Way, Just Believe (a marker pen font), Generous Monarch (a tall condensed dry brush typeface), Our Goodwill (hand-printed), Keep Me, Intense Emotion, Majestic Valentine (hand-drawn), Wow Darling (handcrafted), Love Taking, Love Radiate.
Typefaces from 2022: Easter Discover (condensed, hand-printed), Instinct Question (a condensed all caps brush font), Summer Fable (handprinted), Cute Rabbit (a fat finger children's book font), How Lovely (hand-printed), Summer Splendor (casual, hand-crafted), Individual Thinking, See You Again (handprinted caps), Juicy Fruit.
Some fonts are free at Dafont. Creative Market link for Jamel E. Robin. Fontspace link. Sellfy link.
EXTERNAL LINKS
Seemly Fonts (or: Fancy Fonts, Instagram Fonts, Comely Designs, or: Seemly Designs)


[Buy fonts]


[Designer info]
Fontspring link [Buy fonts]
Fontbundles link [Buy fonts]
Dafont page
Fontspace page
Creative Market page
MyFonts search
Monotype search
Fontspring search
Google search

INTERNAL LINKS
Type designers ⦿ Type designers ⦿ Experimental type ⦿ Ornamental caps typefaces ⦿ Christmas / Season's Fonts ⦿ Handwriting fonts ⦿ Icon fonts ⦿ Commercial fonts (small outfits) ⦿ Brush script typefaces ⦿ Dry brush script typefaces ⦿ Prismatic typefaces ⦿ Horror fonts ⦿ Type design in Bangladesh ⦿ Textured typefaces ⦿ Ornamental caps typefaces ⦿ Typefaces that emulate chalk ⦿