DeLittle [Robert James DeLittle]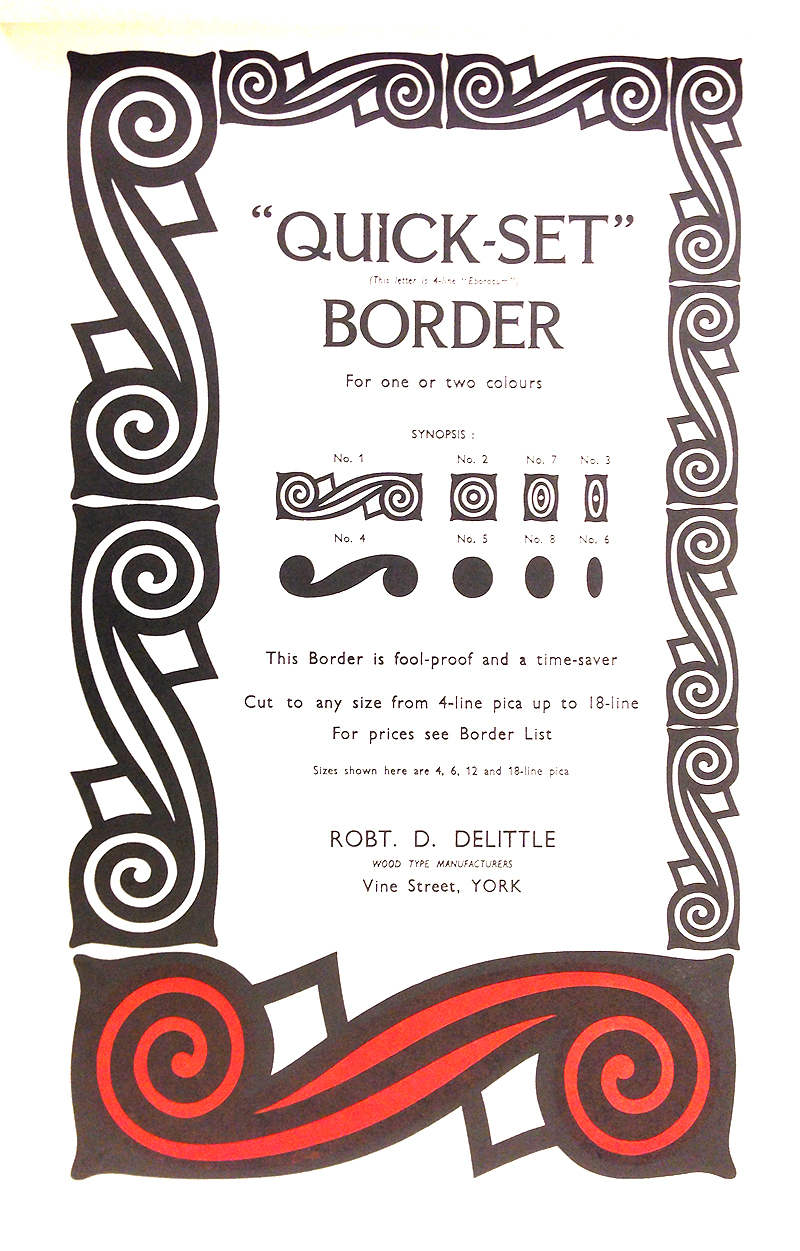 In 2014, David Shields researched this British wood type foundry, which was founded in 1888 by Robert Duncan DeLittle as the R D DeLittle Eboracum Letter Factory. The wood type manufacturer was known for their unique production of White-Letter they named Eboracum after the Roman name for DeLittle's native city of York, England.
Books by Claire Bolton: DeLittle, 1888-1988: the first years in a century of wood letter manufacture, 1888-1895 (Oxford: Alembic Press, 1988) and DeLittle: an English wood-letter manufacturer; including a brief history of the development of wood-type (Winchester: Alembic Press, 1981). Starting in 1940, DeLittle also cut wood type for Stephenson Blake, the leading type foundry in the United Kingdom. DeLittle ceased operation in 1998. Robert James "Jim" DeLittle (b. 1936), the third and last owner, died in 2014 in Fulford. The Type Museum in London now houses the archives and machinery of the firm. See also DeLittle's Wood Type Specimens, 1966, The Cary Graphic Arts Collection at the Wallace Center, Rochester Institute of Technology.
Digital typeface revivals: Presswood JNL (2020, Jeff Levine: based on the title font used on the cover of a specimen book issued by the Delittle), Delittle Chromatic (Matt Braun, 2016; a revival of typeface 56/54), Sandbox (2017, Steve Jackaman, based on typeface 260 in DeLittle's catalog).
EXTERNAL LINKS
DeLittle
Creative Market page
MyFonts search
Monotype search
Fontspring search
Google search

INTERNAL LINKS
Type designers ⦿ Type designers ⦿ Type design in the United Kingdom ⦿ Wood Type ⦿ Extinct 20th century foundries ⦿ Foundries of the 19th century ⦿