Typollery (was: Dri Zy) [Faqih Sandri]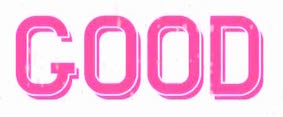 Dri Zy, or Drizy, is Faqih Sandri, aka Faqih Fawaji. Bandung, Indonesia-based designer (b. 1991) of the layered techno typeface Trixie (2016), the brush typefaces Syelma Script (2016) and Syemox (2016), the gothic typeface Dark Widow (2016), the vintage lettering typefaces Overjoyed (2016, Western style) and Beatrixe (2016), the paperclip typeface Kuxu (2016), Dark Widow (2016), Brain Melt (2016: the ultimate Halloween / horror font), Mama Lian (2016), Copper (2016), Dust (2016), the brush script fonts Aeros (2016) and Rostoh (2016, brushy), the children's script typeface Roast (2016), the handcrafted Eastpine (2016), Nyam (2016, layered) and Monstahh (2016), the slimy Halloween typeface Brain Melt (2016), and the poster typeface family Ayuenda (2016).
Typefaces from 2017: Heimdal (futuristic), Alectro (sci-fi style, with elements of Sinaloa), Wakiki (layered typeface), Kauai, Maui Script, Mokoto (a layered TV glitch typeface), Anxiety (multiline font), Nemphis (neo deco), Andimia (a layered Victorian font family), Mr. Trumb (comic book style, what else?), Mr. Trumb Chalk.
Typefaces from 2018: Orbit, Solo (a thin all caps avant-garde font), Midnight (horror font), Buick (ethnic, futuristic and bold), Astro, Amoux, Galatee, Love & Life.
Typefaces from 2019: Naras, Buick (a tribal pattern font), Aloen, Galatee Script, Zesant (font duo), Syemox (brush), Ayuenda Shadow, Adine, Galatee Script, Aeros (brush script), Tulisan, Bomtur, Forever (a signature script), The Brawn (monoline script), Loka, Brack (rough brush), Orbit, Midnight.
Typefaces from 2020: Latone.