Don Marciano [Juan Miguel Castillo]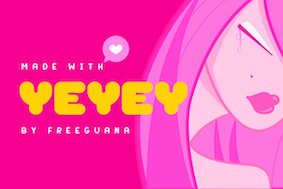 San Salvador, El Salvador-based illustrator. Designer of the oriental simulation typefae La Oriental (2018), the casual typeface Cipote (2018), the wide sans typeface Draper (2018), the fat display typeface Hornet (2018), the free athletic lettering font Varsity Team (2018), the free all caps comic book typefaces Benja (2018) and Sivar Regular (2016), the fat rounded sans Yeyey (2016, kawaii-inspired), the rounded sans typeface Lola (2016), the display typeface Contrastes (2016), and the free cartoon font JuanMikes (2016). Typefaces from 2017 and 2018: Castillo (free blackletter), Brand Co, Galactico (a sci-fi font), Cuadra (a block font), Arqui (a blueprint font), Bootcamp (+Bootcamp Morsecode), Camar (a heavy sans poster font), Cipitillo (a horror font), Don Graffiti, Hache, Innova (a techno font).
Typefaces from 2019: E-Muse (a sports font), Slugger Monogram, Amore, Slugger (signage script), Alvaro.