Chekart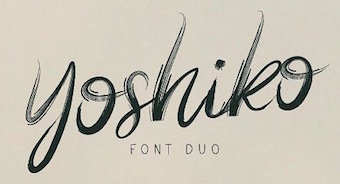 Illustrator based in Ust Sysolsk, Northern Russia, whose first name is Katya. In 2016, she designed the brushy Yoshiko, the connected Neoscopic, Dissentio, the dry brush typeface Sungai, the brushy Elvissa Script, and Arlin Brush.
Typefaces from 2017: Old Maple, Jelani (free African motif font), Keril Devil (rounded fat comic book style), Tino Script, Fun Bang, Alsynya (fat finger font), Miss Lavanda, Demetriss, Sacral Town (alchemic), Mr. Lonely, Malanya, Retano Script, Black Shepherd (a skeletal bones font), Summerrine, The Nordlike, Bekabuga Display, Basnow Grunge, Inversus (grungy slab serif), Raisia Script, Disquise Brush.
Typefaces from 2018: Forgotten November, Thirty One, Immensely, Spring Feel, Cracky (glaz krak), Jelani Display (tribal), Frisky Wind (brush), Lovely Valentine, Blue April (scratchy), New Years Story.
Typefaces from 2019: Coffee Bear (a dry brush font).
Typefaces from 2020: Mister Burn, Jack Simple, Fragile Bones.
Typefaces from 2021: Lonely Angels (brush script).