ETF Supply (or: TypeHaus) [Dharma Syahputra]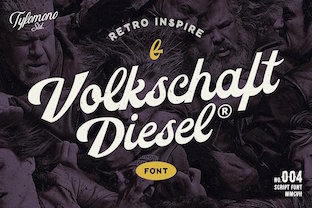 Or Fajar Wahyu Pribadi. Medan, Indonesia-based designer of the modern scripts Anomaly (2016, a signature script that is free at Dafont), Semesta (2016), Triani (2016) and Aidad (2016), the roundish slab serif typeface Canaal Slab (2016) and the connected monoline script typefaces Ulleel (2016) and Gomma Monoline Script (2016). Firman Suci Ananda (Medan, Indonesia) is somehow also involved in the production or advertisement of this typeface.
Volkschaft TF (2017) is a baseball script jointly designed by Firman Suci Ananda and Wahyu Pribadi.
Cofounder with Firman Suci Ananda of Tyfomono, which made the script typefaces Cartel Deux and TF The Fest, and TF Hillmark (a script typeface by Firman Suci Ananda and Wahyu Pribadi) in 2017.
Typefaces from 2018: Hurley 1967 (+Script), US Bill Sans (published by Unidaas; co-designed with Firman Suci Ananda and Irfan Ulya), US Blaak (a wedge serif by Firman Suci Ananda and Fajar Wahyu Pribadi).