ATF: Railroad Gothic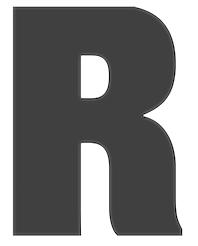 This ATF classic headline sans was first introduced in 1906. Mac McGrew writes: Railroad Gothic is a plain, traditional form of heavy, condensed gothic, first shown by ATF early in the century, although it has the appearance of a nineteenth-century face, as some characters seem disproportionate to the others. There is no lowercase. It has long been popular for newspaper headlines, especially in the very large sizes, some of which continue to be shown in recent ATF lists. Ludlow makes the same design in some large sizes as Gothic Bold Condensed Title. Compare Headline Gothic (ATF). ATF Type adds: Railroad Gothic was the quintessential typographic expression of turn-of-the-century industrial spirit---bold and brash in tone, and a little rough around the edges. A favorite for the plain speak of big headlines, Railroad Gothic quickly gained popularity among printers. Its condensed but robust forms were likely a source of inspiration for later families of industrial sans serifs.
For revivals and extensions:
ATF Railroad Gothic (2016, Mark van Bronkhorst, Luis Batlle, Igino Marini, & Ben Kiel). This is an extension with four new weights.
Opti Railroad Gothic (Castcraft).
Railroad Gothic (Steve Jackaman, Red Rooster).
Railroad Gothic (Linotype).
FB Titling Gothic (2005, David Berlow). According to Font Bureau, Titling Gothic was inspired by Railroad Gothic.
EXTERNAL LINKS
MyFonts search
Monotype search
Google search

INTERNAL LINKS
Typography ⦿ History of type ⦿ Choice of fonts ⦿ Morris Fuller Benton ⦿