Sportsfonts [Christoph Koeberlin]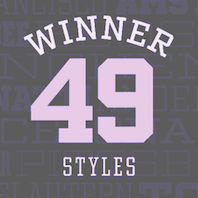 German type foundry, est. 2016 by Christoph Koeberlin, whose passion for FC Kaiserslautern in the Bundesliga led to the creation of Sportsfonts. Koeberlin previously designed retail typefaces such as Fabrikat and FF Mark (the latter with Hannes von Döhren and the FontFont Type Department).
His first typeface at Sportsfonts is the 24,000-glyph 49-font athletic lettering superfamily, Winner (2016), and its follow-up fonts, Winner Numerals and Winner Sans (2019, designed with Sven Fuchs).
In 2016, he created the free variable font typeface Gingham.