Xanti Schawinsky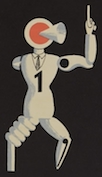 Alexander Xanti Schawinsky was born in 1904 in Basel, Switzerland, to a Jewish family of Polish descent. He died in 1979 in Locarno, Switzerland. He worked for three years in Theodor Merrill's Köln architecture office before enrolling at the Bauhaus in 1924 where he studied with Walter Gropius, Wassily Kandinsky, Paul Klee, Josef Albers, Oskar Schlemmer and Laszlo Moholy-Nagy. Schawinsky had a significant presence at the Bauhaus in Weimar and Dessau. He was particularly active in the theater department and strongly inspired by Schlemmer, whose position as teacher he took on and developed further. Photos from the early years of the Bauhaus show Schawinsky as a dynamic personality in many of its experimental extra-curricular activities. Among them was the influential Bauhaus Jazz Band where Schawinsky introduced his Step Dance versus Step Machine style of mechanical music and dance to pounding rhythms coupled with dramatic lighting effects and performance elements. At the Bauhaus Schawinsky began developing his ground-breaking concept of Spectodrama. Spectodrama represented an early idea of total theater where all aspects of the stage become independent agents. Schawinsky continued the work on Spectodrama at the Black Mountain College in the United States after his immigration, and he revisited this work in the 1960s and 70s in Europe. The original concepts and scripts are located in the archive of the Estate of Xanti Schawinsky in Zurich, as well as an extended body of work of stage photographs and sketches.
Anke Kempkes provides a full biography, from which I quote this passage: When the Bauhaus closed in 1933 Schawinsky first went to Italy. In Milan he worked for [Antonio Boggeri's] Studio Boggeri, the newly founded state-of-the art advertising studio. He designed outstanding poster and product designs for Motta, Illy coffee and Cinzano. He also co-designed for Olivetti the typewriter Studio 42. Schawinsky's posters and products were to become classics of commercial design of the 1930s. Philipp Johnson gave his collection of Schawinsky posters in later years as gift to the Museum of Modern Art in New York. In Nothern Italy the artist met Marinetti and Giorgio de Chirico, whose work co-influenced the growing Surrealist tendency in Schawinsky's work of the 1940s. During this time Schawinsky remained in close exchange with Walter Gropius. He actively promoted the Bauhaus ideas and planned to bring out a book about the Bauhaus years, which remained unpublished. In 1935 the political situation in Italy forced him to leave once more. Schawinsky went to London where he married Irene von Debschitz, the daughter of the director of the Debschitz-School in Munich, an art school having anticipated some of the Bauhaus ideas. In 1936, Hans Albers secured Schawinsky and his wife safe passage to the United States to teach at the later legendary Black Mountain College in North Carolina. In charge of theater arts, Schawinsky expanded his ideas for experimental theater to a multi-media "total experience." His production of Spectrodrama and Danse Macabre at the Black Mountain College demonstrated these ideas and importantly laid the foundations for the work of John Cage and others at the College in the post-war time. It can clearly be argued that Schawinsky brought the radical and avant-garde Bauhaus theater to the United States, a relation that has been receiving special attention recently. Irene Schawinsky also contributed to the College. She collaborated with Anni Albers on clothes designs and she create paper sculptures which became iconic props of Xanti's Spectodrama plays (in the following years Irene used these paper sculptures for shop window designs in New York).
He designed a high-contrast ball terminal-laden typeface in 1932 that was revived in 2016 by Luca Pellegrini as Xanti32 in his graduation thesis, Forgotten typeface, Xanti Schawinsky designer di caratteri. Pellegrini's typeface was published as Xants by Adobe Originals.
In 2021, CAST released the wonderful monospaced Bauhaus-inspired typewriter family Xanti Typewriter by Gianluca Sandrone.
EXTERNAL LINKS
Xanti Schawinsky
Behance page
MyFonts search
Monotype search
Fontspring search
Google search

INTERNAL LINKS
Type designers ⦿ Type designers ⦿ Type design in Switzerland ⦿ Bauhaus and type design ⦿ Typefaces related to Paul Klee ⦿