Forgotten Shapes [Stephan Müller]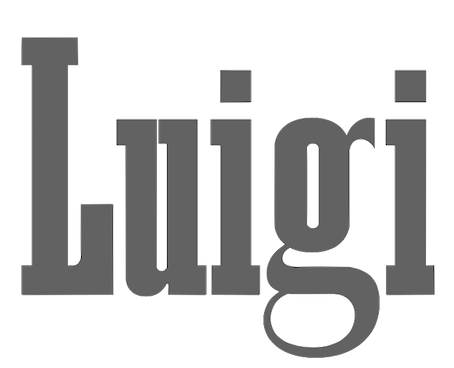 A project started by Stephan Müller (Lineto's founding partner), Reymund Schröder and Pierre Pané-Farré in 2017. They write: The three designers met at HGB Leipzig, the Academy of Fine Arts where Müller co-directs the type design course, and where their inevitable discussions about the witnessed inflation of digital typefaces led them to explore alternative strategies for the practice of type design, the study of typeforms, their development and their future existence in rapidly developing digital environments. Are there any more challenging and more rewarding methods of publication than the mindless race to discover, scan, trace & refit for a panicked release? That's one of the questions Forgotten Shapes aims to find answers for. Their typefaces:
As a preamble, Stephan Müller digitized Karl Gerstner's Gerstner Programm in 2008. They write: [Gerstner Programm is] Gerstner's conceptual take on the most classic of German grotesques, Akzidenz-Grotesk, a commercially ill-fated attempt to transform and re-position it with the Berthold type foundry for photo-type, the prevailing typesetting technology of the 1960s and 70s. Stephan Müller was fascinated by Karl Gerstner's rigorous conceptual approach, outlined in a detailed analysis published in 1963. After contacting him, Müller digitised it with his approval in 2008. Extensive additional research at the Swiss National Library, which holds Gerstner's archives, led him to rework and extend it in the years to follow. He also consulted with Christian Mengelt, who had originally drawn the typeface under Gerstner's guidance in the 1960s. The resulting font family remained unreleased until now [2017, the year of Gerstner's death], but has been used on a number of projects throughout the years.
Antiques FSL (2017). By Pierre Pané-Farré: Antiques FSL is the digital re-issue of Antiques advertised in "Epreuves de caracteres" by E. Tarbe & Cie. (Fonderie Generale) around May 1839 in Paris. Antiques was available in the sizes of Corps 220, Corps 252 and Corps 280. The design was the sans serif counterpart to Allongees---a condensed Egyptian display typeface.
Breite-Fette Antiqua FSL (2017). By Pierre Pané-Farré: Breite-Fette Antiqua FSL is the digital re-issue of an unidentified display typeface which---from ca. 1850 onwards---was part of the type case in the printing workshop of Oskar Leiner in Leipzig. It can not be said whether it was a custom-made design or if the typeface was distributed commercially by a foundry.
Doppel-Mittel Egyptienne FSL (2017). By Pierre Pané-Farré: Doppel-Mittel Egyptienne FSL is the digital re-issue of Doppel-Mittel Egyptienne by Eduard Haenel, Magdeburg. It was advertised 1833 in "Schrift- und Polytypen-Probe. Zweite Lieferung. Blatt 25-72." and again 1834 in "Neueste Lettern", a supplement to the "Journal fuer Buchdruckerkunst." Doppel-Mittel Egyptienne itself was a re-casting of Two-Line English Egyptian No. 1 originally shown in 1821 by William Thorowgood, London.
Schmale Egyptienne N.12 FSL (2017). By Pierre Pané-Farré: Schmale Egyptienne N.12 FSL is the digital re-issue of Schmale Egyptienne No. 12, 28 Cicero Kegel advertised in 1841 in "Proben der Affichen-Schriften von Eduard Haenel. Berlin."
Lector FSL (2017). A text typeface family by Reymund Schröder: Lector FSL (originally named Lector Gewoehnlich and Lector Kursiv) is the digital rework of an original type design by Gert Wunderlich, drawn between 1963-1990. Lector was designed for, but never released by former Typoart (GDR). Published in cooperation with and permission of Gert Wunderlich.
EXTERNAL LINKS
Forgotten Shapes
MyFonts search
Monotype search
Fontspring search
Google search

INTERNAL LINKS
Type design in Switzerland ⦿ Akzidenz Grotesk ⦿ Commercial fonts (small outfits) ⦿