Marath Salychow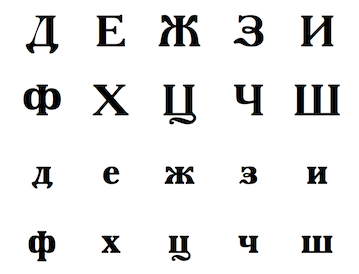 Marath Salychow (b. 1980) is the Moscow-based designer of the free typefaces Alhueia (2001, for Greek) and Akademie Alte (2016, for Latin and Cyrillic; based on a Berthold original from 1910).
In 2017, he designed the free typeface Literaturnaya, which is modeled after Anatoly Schtschukin's Literaturnaya (1936). He also made the free didone typeface Chekhovskoy that year, after the Elizavetinskaya typeface (1904, Lehmann foundry, Saint Petersburg).
Typefaces from 2018: Elisabethische (after Jelisawethinskaja, 1904, Lehmann Foundry), MGA (a great Latin / Cyrillic Garamond), Akademitscheskaya (a revival of the Akademitscheskaya Berthold Garnitur from 1910).
Typefaces from 2019: Kornilow. A free didone-Baskerville hybrid for Latin and Cyrillic, named after White Army general Lawr Georgijewitsch Kornilow.
EXTERNAL LINKS
Marath Salychow
MyFonts search
Monotype search
Fontspring search
Google search

INTERNAL LINKS
Type designers ⦿ Type designers ⦿ Type design in Russia ⦿ Cyrillic type design ⦿ Greek/Coptic ⦿ Sites with only a few free fonts ⦿ Modern style [Bodoni, Didot, Walbaum, Thorowgood, Computer Modern, etc.] ⦿ Garalde or Garamond typefaces ⦿ Baskerville ⦿