Third Type Design Contest of Hanyi Font Star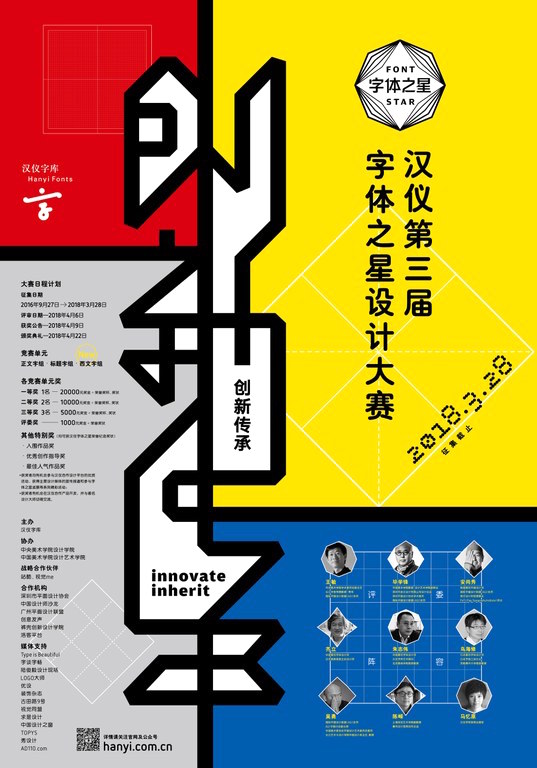 Chinese type competition organized by Hanyi Font with three categories: Chinese Text, Chinese Display, Latin (for use with a set of given Hanyi fonts). The fonts should be designed after March 2016 and before March 2018, the deadline for submissions. The judging will take place in April 2018.
The judges: Xuefeng Bi (Professor of China Academy of Art, Associate Dean of Design Art College), Osamu Torinoumi (Japanese type designer, President of Jiyukobo Ltd), Li Qi (Chinese type designer, Chief Designer of Qihei family of Hanyi), Rong Chen (Chief of Visual Communication and Information Department, Shanghai Institute of Visual Arts (SIVA), Chief Creative Director of Qinwei Design), Min Wang (Deputy Director of the Academic Committee of the Central Academy of Fine Arts (CAFA)), Sang-soo Ahn (Korean graphic designer, Head of PaTI (Paju Typography Institute)), Zhiwei Zhu (Chinese type designer, Artistic Consultant of Hanyi Font), Yong Wu (Professor, Director of the Department of Graphic Design, Cheung Kong School of Art and Design), Yiyuan Ma (Chief Operating Officer of Hanyi Font).
EXTERNAL LINKS
Third Type Design Contest of Hanyi Font Star
MyFonts search
Monotype search
Fontspring search
Google search

INTERNAL LINKS
Type competitions ⦿ Chinese fonts ⦿