Anugraha Design [Cina Catteau]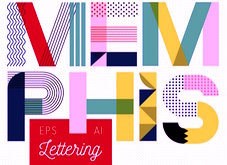 Pokhara, Nepal-based designer whose work is characterized by bold colorful geometric patterns and constructions. Typefaces from 2017 include Roam (which Cina calls a tribal type) and the color font Beach Towel.
In 2017, she also published a wood type collection:
Barn Raising. A sturdy sans-serif in regular and rounded.
Prairie. A perfectly square geometric serif, in inline and regular.
Broad Sheet. A wide slab serif with 1.5:1 proportions. This one has a western flair but is simple enough to work for a variety of projects.
Prize. An ornate slab serif with a circus / carnival vibe.
Extra extra. A quirky slab serif most like 1900s printmaking letters.