Eun You Noh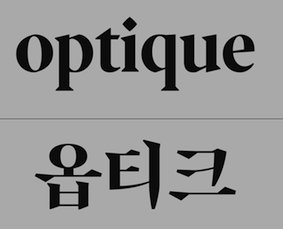 Or Eunyou Noh. Type designer and researcher from South Korea. She earned her Ph.D. in visual communications at Hongik University in 2011---her thesis was a study on Choi Jeong-ho's Hangul type designs. She started teaching Hangul type design at several universities, including Hongik. In 2012-2015, Eunyou Noh worked as a senior researcher at Ahn Graphics Typography Lab. She moved to the Netherlands in 2016, to study in the TypeMedia program at KABK, where her graduation typeface was Optique (2017). Eunyou currently lives in The Hague, working on a multi-script project.
She explains Optique: Optique is a multilingual typeface design project for Latin and Hangul in optical sizes. It is a serif typeface based on the tools of each script; broad nib for Latin and pointed brush for Hangul. Optique simplifies the shapes of Latin and Hangul whilst preserving the way of writing for each script. It is designed with the intention to achieve harmonization; to let the two scripts appear as one.
Speaker at ATypI 2018 in Antwerp on the topic of Hangul type designer Choi Jung-ho (1916-1988).
EXTERNAL LINKS
Eun You Noh
MyFonts search
Monotype search
Fontspring search
Google search

INTERNAL LINKS
Type designers ⦿ Type designers ⦿ Korean (Hangul) ⦿ Type design in South Korea ⦿ Dutch type design ⦿