Asketic Design Studio [Mikelis Bastiks]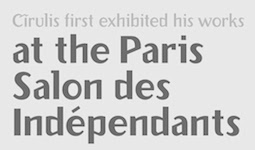 Outfit in San Francisco, London and Riga, Latvia, est. 2007. Most typefaces are designed by Mikelis Bastiks and Aigars Mamis. These include:
Cirulis and Cirulis Display (2017). An art deco display sans family of two weights, named after Ansis Cirulis (1883-1942, Latvia), who was one of the first Eastern European designers. Cirulis's heritage is characterized by letters with asymmetric widths, sliced cuts and various intrinsic features. Dedicated site.
Luzumpunkts (2009). A free script typeface by Mikelis Bastiks.
Sniegs (2010). A free fat modular typeface by Mikelis Bastiks.
Home page. Dedicated web site for the Cirulis font. You Work For Them link.
EXTERNAL LINKS
Asketic Design Studio


[Buy fonts]
Fontspring link [Buy fonts]
MyFonts search
Monotype search
Fontspring search
Google search

INTERNAL LINKS
Commercial fonts (small outfits) ⦿ Type design in Latvia ⦿ Art deco typefaces ⦿ Type scene in California ⦿ Sites with only a few free fonts ⦿ Type designers ⦿ Type designers ⦿