Kyiv Type Foundry [Yevgeniy Anfalov]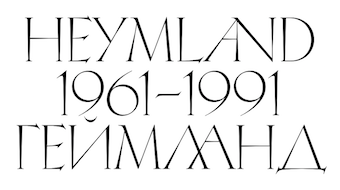 Born in Kyiv, Ukraine, in 1986, Yevgeniy Anfalov moved to Germany in 2003. He studied Visual Communication at Hannover University of Applied Sciences and Arts, and he launched his own design practice in 2010, two years before graduation. From 2015 to 2017, he completed the MA Art Direction at ECAL/University of Art and Design Lausanne, with a major in Type Design. He obtained an award of excellence for his graduation book project on the history of electronic music, ROTARY. Geschichte des Studios für elektronische Musik WDR Köln 1951-1981. Yevgeniy is working primarily in the fields of editorial design, visual identities, bespoke typefaces and online projects.
Founder of Kyiv Type Foundry, which aims to offer new perspectives on the Russian and Ukrainian heritage of type design.
His typefaces:
LL Heymland (2018-2020, Lineto). An all caps flared typeface for Latin and Cyrillic that was influenced by a pen drawing of Koch's Koch Antiqua found in Solomon Telingater's estate.
The cyrillization of Stephan Müller's Chernobyl, a graphic stencil font designed in the late 1990s.
The custom typeface Malba Sans (2017) for Museo de Arte Latinoamericano de Buenos Aires (MALBA). He explains: Malba Sans is a corporate font of the museum, whose capital letters were drawn in-house (Aldus De Losa) and served the titling purposes. We were asked by the museum's graphic design team to analyse and update the capital letters, draw the lowercase letters, based upon the improved model and extend the character sets to cover more languages. The new version, named Malba Sans is characterised by a stronger vertical accent and more consistency due the reshape of all the letter forms. A new tighter spacing contributed to the better titling function. Malba Sans was fully kerned and is going to be implemented in the museum's upcoming identity in 2018. The font was exclusively drawn for the internal use and is not available for licensing.
EXTERNAL LINKS
Kyiv Type Foundry
Behance page
MyFonts search
Monotype search
Fontspring search
Google search

INTERNAL LINKS
Type designers ⦿ Type designers ⦿ Corporate typefaces ⦿ Type design in Argentina ⦿ German type scene ⦿ Type design in Ukraine ⦿ Cyrillic type design ⦿ Lapidary typefaces ⦿ Commercial fonts (small outfits) ⦿ Stencil fonts ⦿