Da Only Aan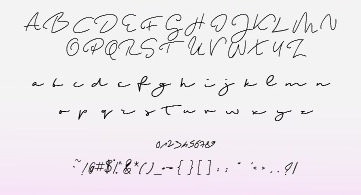 Surabaya, Indonesia-based designer, b. 1987, of these typefaces in 2017: Clone Line, Blitz, Genio Script, Rhythm Script, Luzhniki, Cendana, Wow, Single, Mantra, Lovable, Eruption, Finger Dance, Never Old, Bravo, Funday, Lexa Sans, Supernova, Ventura sans, Lol Signature, Frysca, Granite, Signsation, Addictive, Magic Wave, Vallent (sans), Signora, Magic Wave, Signature Talk, Alexis, Prologue, Bullet, Red Blood, Talkin Talk, Tsamina, Jealous Boy, Almost Soul Mate, Romantic Story, Alayhome Dirty, Angle Silence, Wave of Love, Sleeping Child, Move On, Hompimpa, Cheap Road, Cheerful, Stay Close, Wholess Script, Morning Painters, Slow Down Script, Empty Family, Jumping Pack, Signaspies (signature font), Private Emotion, Cubby Cheeks, Lonely, Cat Cute, Thin Man, Sheep Horn, Angelie, Aza (brush script), Wrong Way, Solid, Swirling, Slash, Child Write, Ink Scratches, Stalk, Being Lazy, Longitudinal End, Unchained, Curbside, Naura, Lay, Elastic, and Ladies Sky.
Typefaces from 2018: Dilan Signature, Syndrom, Ground (rounded sans), Glass, Flowrish (floriated), Aline (multiline), Salting (script), Sellow, Marion, Melting, Move Closer, Reflection, Cavalry, Sway Script, Chenthini, Vero, Inner, City, Break, Bat Hill.
Typefaces from 2019: Pring, Racheto (bilined), Alusans, Tooth (Tuscan), Apache, Analyst (stencil), Amblas (geometric monoline sans), Nona (oriental look), Pieces, Black Forest (textured caps), Drops.
Typefaces from 2020: Vonari.
EXTERNAL LINKS
Da Only Aan
Fontbundles link [Buy fonts]
Dafont page
Creative Market page
MyFonts search
Monotype search
Fontspring search
Google search

INTERNAL LINKS
Type designers ⦿ Type designers ⦿ Signature/logo fonts ⦿ Handwriting fonts ⦿ Brush script typefaces ⦿ Children's handwriting fonts ⦿ Floriated initial caps ⦿ Type design in Indonesia ⦿ Oriental simulation fonts ⦿ Stencil fonts ⦿ Tuscan fonts ⦿