Geranium Space (Was: Moovied Co, Eight Type Rits, Geranium Space, Letter Rits Type, Templatehere) [Haris Purnama Putra]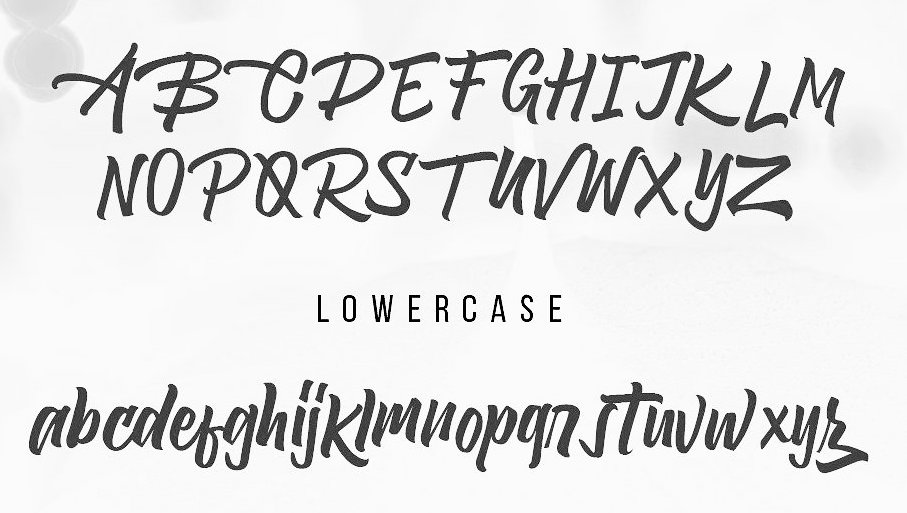 Aka Moovied Co, Rits Studio and Letter Rits Type and Template Here and Megi Satyo and Megi Widodo and Megi Satyo Widodo (b. 1993) and Geranium.co and Haris Purnama Putra. Lampung, Indonesia-based designer (b. 1996) of the signage script typefaces Callerious (2019), Modster Script (2019), Qintan Script (2018), Adelaide (2018; aka Azzardo), Purnama (2017) and Chasing Star (2018; brush style), the dry brush typefaces Flassty (2019), Springfield (2019), Housky (2019), and Southgirl (2019), and the script typefaces Austine (2019), Outlander (2019), Guigliamore (2019), Quillenghton (2019), Mettda (2019), Arkland (2019: monoline), Breavenheart (2019), Jesselyne Script (2019), Claude (2018), Wilderness (2018), Magnolia (2018), Oregon Script (2018), Made Hellios (2018), Ballerina (2018), Dreamland (2018), Charlotte (2018), Geraldine (2018), Laura Hellaw (2018), Sureder (2018), Sureder Stylish (2018), Cherry Blossom (2018) and Lattravis (2017).
Typefaces from 2020: Anxiety, Blackhills (dry brush script), Huntington (dry brush script), Crystal Dust, Billy Smith (a signature script), Houstiny, Signature Flavour, Irlandya (a dry brush script), Rubellion Script, Lostmoond Script, Quechely, Victoryia Wastinger, Bollivia Script, Vacation Brush, Rosemellind Signature, Lotterras, Mighty Brush, Marryliane, Frankfield Script, Bravenheart Script, Halmaherra Signature, Kileegon Zales, Aurelly Signature, Billy Smith, Crystal Dust, Flaura, Histeria Script, Huntington, Irlandya, Signature Flavour, Threesixty.
EXTERNAL LINKS
Geranium Space (Was: Moovied Co, Eight Type Rits, Geranium Space, Letter Rits Type, Templatehere)


[Buy fonts]


[Designer info]
Dafont page
Behance page
Creative Market page
MyFonts search
Monotype search
Fontspring search
Google search

INTERNAL LINKS
Type designers ⦿ Type designers ⦿ Type design in Sumatra (Indonesia) ⦿ Signage typefaces ⦿ Sites with only a few free fonts ⦿ Commercial fonts (small outfits) ⦿ Brush script typefaces ⦿ Monoline script fonts ⦿ Dry brush script typefaces ⦿ Signature/logo fonts ⦿