Kai Büschl, Lazydogs, TEFF and van Krimpen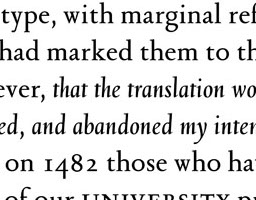 One of the designers at Lazydogs, Holger Königsdorfer, reworked and improved Jan van Krimpen's Romanée between 2015 and 2017. It was about to be released by Lazydogs late in 2017. Lazydogs contacted The Enschedé Font Foundry (TEFF), who claimed that TEFF had acquired the rights from the former Enschedé Foundry to commercialize certain typefaces of Jan van Krimpen. However, TEFF never showed evidence of real ownership. The international trademark registry has no typeface called Romanée. Despite this, TEFF refuses to negotiate and issued a firm nyet. Kai Büschl reports on Typedrawers that TEFF had at some point worked on its own digital version of Romanée, and abandoned that project some time later. So, now the world has no digital version of this typeface. Lazydogs was reaching out in December to the type community for advice---how can they proceed to publish their finished version of Romanée?
The typophiles first reacted stunned (Hrant Papazian calls TEFF's behavior font squatting; Scott-Martin Kosofsky said that many organizations and individuals claim copyright to things in which they have no rights whatsoever). Kosofsky argues that a 1928 font that has been studied in schools and textbooks is important cultural material, and that in view of the new (digital) medium, anyone should be allowed to make a digital interpretation. He also offers the idea of setting up a US corporation or partnering with one since in the USA typefaces are not subject to copyright protection. The earlier case in which Lucas Sharp based his Eros (2017) directly on TEFF's Lexicon was discussed. In that case, there was no public outcry. Then the discussion turned to more practical and legal items. Dan Reynolds and Scott-Martin Kosofsky wisely recommend not using the name Romanée.
In reply to Artur Schmal, Kosofsky writes: This is not about evading copyright, but how to evade bullying. He continues: I would interpret this [the Dutch Copyright Act] to be applicable [to] the act of making a digital font based upon one that had been made originally in metal and therefore outside any rights or claims of TEFF or Joh. Enschedé or the heirs of Jan van Krimpen. The Dutch Copyright Act: Reproductions of a literary, scientific or artistic work in a modified form, such as translations, arrangements of music, cinematographic and other adaptations and collections of different works shall be protected as separate works, without prejudice to the copyright in the original work. Chalk one up for Kosofsky in this discussion.
Finally, Lazydogs caved in and called their typeface Renommée. It was published in 2018.
EXTERNAL LINKS
Kai Büschl, Lazydogs, TEFF and van Krimpen
MyFonts search
Monotype search
Fontspring search
Google search

INTERNAL LINKS
David and Goliath ⦿