Peliken [Ksenya Kuznetsova]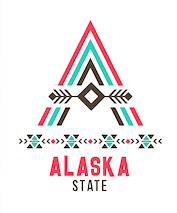 Moscow-based designer of the tribal patterned color typeface Aleut (2018) and the dry brush typeface Drum (2018).
In 2018, she added the stars-and-stripes color font America, the color ransom font Anon, the color font Mexifont, and the children's book font Hands Up.
Typefaces from 2019: Crochet (an opentype SVG font). Home page.