Noheul Lee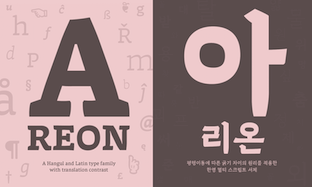 Noheul Lee obtained a bachelor in visual communication design from Sangmyung University, Korea. She pursued a Master in visual communication design from Kookmin University, Korea, and a Bachelor's Degree from Sangmyung University in Seoul. Noheul graduated from the TypeMedia program at the Royal Academy of the Arts, in The Hague, in 2018. Currently she is working as a multi-script type and graphic designer. Starting in 2020, she was a partner at lo-ol type foundry, a studio based in Switzerland, with husband Loris Olivier.
Noheul's graduation typeface Areon covers both Latin and Hangul and both scripts are quite nicely harmonized. Areon Hangul was based on Myungjo. Noheul won the gold medal in the Latin category at the 22nd Morisawa Type Design competition in 2019 for Areon.
In 2019, Future Fonts released her angular Latin / Hangul typeface Arvana, which won the 6th Bang il young Cultural Foundation Fund Competition for Hangul typefaces in Korea.
Co-designer with Loris Olivier and Katja Schimmel of McQueen Superfamily (2020, at Fontwerk), a 20-style sans family. Fontwerk link.
EXTERNAL LINKS
Noheul Lee
MyFonts search
Monotype search
Fontspring search
Google search

INTERNAL LINKS
Type designers ⦿ Type designers ⦿ Korean (Hangul) ⦿ Type design in South Korea ⦿ Type design in Switzerland ⦿