Ale Navarro Miranda [Ale Navarro Miranda]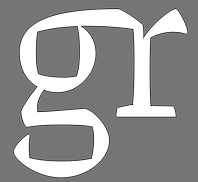 Designer and letter artist in Puente Alto and Santiago, Chile. Some of his typefaces are published by Compania Tipografica de Chile, which he co-founded in 2018 together with Raul Israel and Franco Jonas. His typefaces:
The reverse stress typeface Hatchet (2018).
The free angular text typeface Parranda (2018). Winner at Tipos Latinos 2018 of a type design award.
Joane (2018). Joane has calligraphic influences and is accompanied by the wonderful Joane Stencil, Joane Deco and Joane Engraved. Winner at Tipos Latinos 2018 of a type design award.
Maipo Sans (2018) 40 styles, 826 glyphs per font: Maipo Sans is a modern typeface inspired by the mountain landscape of Cajon del Maipo, Chile. Its forms are inspired by the first sans serif European humanist fonts of the twentieth century along with a touch of reverse contrast. This typeface is specially designed for projects using extensive text blocks and striking ads..
Hatchet Display (2018, Future Fonts). A typeface with reverse contrast and glyphic serifs based on the shape of a handmade axe.
EXTERNAL LINKS
Ale Navarro Miranda


[Designer info]
Fontspring link [Buy fonts]
Behance page
MyFonts search
Monotype search
Fontspring search
Google search

INTERNAL LINKS
Type designers ⦿ Type designers ⦿ The Chilean type scene ⦿ Sites with only a few free fonts ⦿ Western fonts ⦿ Stencil fonts ⦿ Wood Type ⦿