Font & Co [Francesco Gianesini]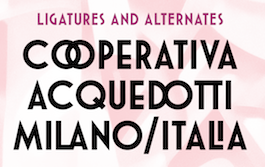 Font & Co. is an independent type foundry established in 2017 by Francesco Gianesini, co-founder and Creative Director of Gianesini Design, a multidisciplinary design studio based in New York City. He started Gianesini Design with his wife Tina in 1994. In 2018, he published Wah Wah Narrow (a condensed logo or headline font), the Italian art deco typeface Via Roma Display, and the geometric display font Lingotto Black, which was by early 70s Italian lettering.
In 2021, he released Timbro (Italian for rubber stamp), an all-caps, decorative display typeface with flared terminals based on lettering from old Land Registry records.