Noto CJK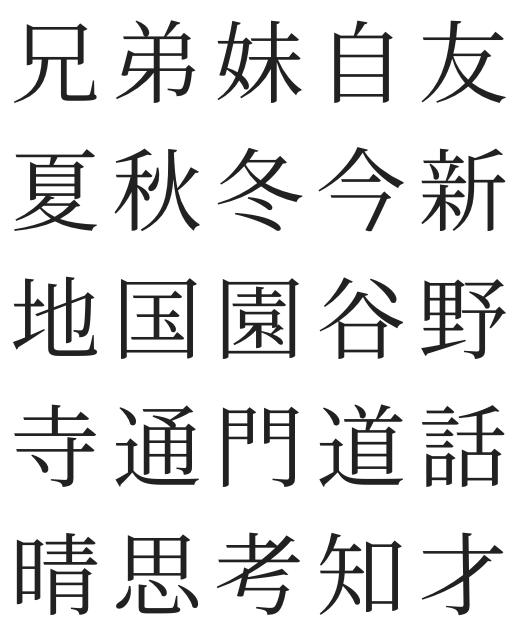 Noto Sans CJK and Noto Serif CJK are free typeface families developed at Adobe and Google to complement the universal Noto font package between 2014 and 2017. CTAN link. Credits :
Ken Lunde (project architect at Adobe, glyph set definition and overall production).
Masataka Hattori (production and ideograph elements).
Ryoko Nishizuka (kana and ideographs).
Paul D. Hunt (Latin, Greek and Cyrillic).
Wenlong Zhang (bopomofo).
Sandoll Communication, Soo-young Jang and Joo-yeon Kang (Hangul elements, letters and syllables).
Dedicated Google fonts sites include Noto Serif SC (for Simplified Chinese; it covers all the Chinese characters listed in China's (Tongyong Guifan Hanzibiao) along with the ASCII, additional Latin letters for Pinyin, punctuation marks and full-width characters used in Chinese), Noto Sans SC, Noto Serif TC (for traditional Chinese), Noto Sans TC, Noto Serif JP and Noto Serif KR. Noto Serif KR has been subsetted to cover the full repertoire of modern Hangul syllables (11,172) and most of symbols in KS X 1001. It also has the full support for Old Hangul with Unicode Hangul Conjoining Jamos and Opentype features. It does not have any Hanjas (Chinese characters) and Greek/Cyrillic letters. Noto Serif JP has been subsetted to all of the kanji in JIS X 0208, JIS X 0213, and JIS X 0212, including all kanji in Adobe-Japan1-6.
See also Noto Sans HK.
EXTERNAL LINKS
Noto CJK
MyFonts search
Monotype search
Fontspring search
Google search

INTERNAL LINKS
Chinese fonts ⦿ Japanese type design ⦿ Korean fonts ⦿ Sites with only a few free fonts ⦿ Hong Kong font scene ⦿