Céline Hurka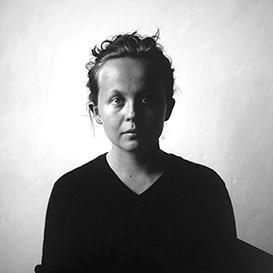 Céline Hurka grew up in Southern Germany and moved to the Netherlands to study graphic design at the Royal Academy of Art (KABK) in The Hague. She is expected to graduate with a BFA in the summer of 2019. Besides her studies she works on freelance projects in the cultural field, where she combines an interest in editorial design with emphasis on type design and photography.
During her studies at the KABK in Den Haag, Céline Hurka designed the poster sans typeface Alfarn (2018) as part of the Adobe Originals collection. This typeface revives a 1923 alphabet by Bauhaus designer Alfred Arndt.
In 2019, Nora Bekes and Celine Hurka published Reviving Type. The book as described by them: One study tells the story of the Renaissance letters of Garamont and Granjon. The other is about the Baroque types of Nicholas Kis. Reviving Type guides the reader from finding original sources in archives, through historical investigation and the design process, to a finished typeface. The first, theoretically grounded part of the book provides insight into historical changes in type design through visual examples of printed matter. The second part offers a thorough explanation of the production process of the revival typefaces. Here, two different approaches are placed side by side, creating a dialogue about different working methods in type design. Technical details, design decisions, and difficulties arising during the design process are thoroughly discussed. Rich imagery of original archival material and technical illustrations visually buttress the texts. Taken as a whole, the publication becomes a cookbook for anyone wanting to dive into revival type design.
Speaker at ATypI 2019 in Tokyo.
EXTERNAL LINKS
Céline Hurka
MyFonts search
Monotype search
Fontspring search
Google search

INTERNAL LINKS
Type designers ⦿ Type designers ⦿ Bauhaus and type design ⦿ German type scene ⦿ Dutch type design ⦿ Books on type design ⦿