Nurrehmet Studio [Imam Nurrahmat]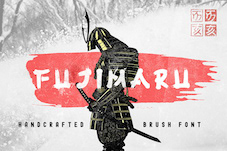 Kuningan, Indonesia-based designer of Fisherman (2018: hand-crafted), Queensland (2018: brush script), Hometown (2018), Vierra (2018: signature script), Looper (2018: connected monoline script), Diva Forever (2018: a script font) and Fujimaru (2018: a free oriental brush typeface).
Typefaces from 2020: Blackford, Flower for Rosalline (script). Creative Fabrica link.