New Tropical Design Studio [Tom Cunningham]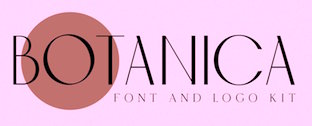 Byron Bay, Australia-based designer of these fonts in 2018: Modernist Milk (stencil), Signwriter, Cloak (stencil), Stamp & Co, Merchant (vintage sans), Big Show (layerable), Sea Spray (experimental minimalist stencil).
Typefaces from 2019: Farmhouse, Sophillia (an elegant sharp-edged display typeface), Modernica Tropico (a fashion mag titling typeface), Grange (a fine high-contrast fashion font), Dahlia (a mini-serifed font), Sunflora (a fashion font with some linked letters), Rockwell (a wedge serif---it takes a loy of chutzpah to design a typeface called Rockwell that is not a slab serif...), Botanica (an all caps fashion font), Coast & Co, Hunter, Marigold, MariSans, Work & Wear, Avalanche (a warm vintage wedge serif), Kinfolk, Wrangler, Sundays.
Typefaces from 2020: Salsico, Milkman, Evangelina (a hipsterish fashion mag font), Culture, Commune, Zephyr, Classico, Analogue, Gallery Modern (a sharp-edged display serif), Mattina Sera SVG (a dry brush typeface by Laura Bennett for New Tropical Design), Geomatik (a minimalist sans), Tangerine (a 1970s style display typeface), Sage (a high contrast decorative didone), Monte Carlo (a stylish all caps typeface).
Typefaces from 2021: Ginger (a romantic and artsy display serif), Silvera (a display serif), Stoned Youth (a disturbing graphic sans), Sign Writer, South Pacific, Grange (an extreme contrast fashion mag typeface), Vineyard (an ornate serif), Raygun Grotesk, Evangelina (a hipster display serif), Cost del Sol, Angelica (a display serif), Seaker (a decorative serif), Palm Springs, Starlight (a decorative serif), Palm Tree Icons (in vector format), Yorker (a decorative serif), Future Classic Sans, Lost Lovers (a boutique font), Sunshower Dreams.
Typefaces from 2022: Evangelina (a fashion mag typeface), Dark Paradise (serif). Type Department link.
EXTERNAL LINKS
New Tropical Design Studio
Creative Market page
MyFonts search
Monotype search
Fontspring search
Google search

INTERNAL LINKS
Type designers ⦿ Type designers ⦿ Stencil fonts ⦿ Commercial fonts (small outfits) ⦿ Experimental type ⦿ Type in Australia ⦿ Fashion mag typefaces ⦿ Modern style [Bodoni, Didot, Walbaum, Thorowgood, Computer Modern, etc.] ⦿ SVG typefaces ⦿ Dry brush script typefaces ⦿ Hipster fonts ⦿ Icon fonts ⦿