Pen Culture (or: End Co; was: Stripline Co) [Revo Farisky]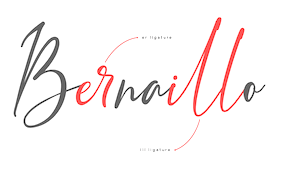 Magelang, Indonesia-based designer (b.1998) of Qonquer (2018: sans), Millanova (2018: script), Bernaillo (2018: script), Bathey (2018: calligraphic; free demo), Cassadio (2018: calligraphic script), Cattalonia (2018), Hadfield (2018) and Attaliand (2018).
Typefaces from 2019: Monatta (script), Dellmonte Sans (font duo), Brandon Smith (a monoline script), Sieroty, Zettama, Abenda, Anitto, Dallard, The Great Sunday.
Typefaces from 2020: The Blue Font, Ocean Road, Garland (a dry brush script), The Nougat Font, Gilliany Signature, Santana, Romedance (a monoline script), Otamendi, Ruttany (script), Anarchy (a dry brush script), Fiordland, Valment, Medalion (script), Goudart, Paradiso, Chronicle, Willion, Scotland, Thailand, Paranoid (monoline script), Sheltone, Ralline. Creative Fabrica link. Creative Fabrica link for End Co.